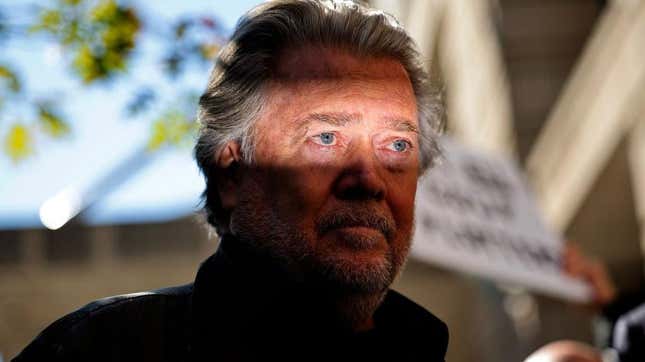 Steve Bannon, the former White House strategist under Donald Trump and host of the War Room podcast, is again under scrutiny after a study revealed his show ranks number one for sharing conspiracy theories and misleading or false information.
Spiders Catapult From Sex
The study, published by researchers at Brookings, found out of 79 political talk shows released prior to January 22, 2022, Bannon's reached the top of the list, and nearly 20% of all War Room episodes were flagged as "false or unsubstantiated."
Brookings researchers downloaded and reviewed 36,603 podcast episodes across the political talk shows and found Bannon's podcast significantly contrasted with seven of the other top shows reviewed including Glenn Beck and Charlie Kirk, which shared misinformation in more than 10% of their episodes.
Bannon responded to the Brookings report, telling The New York Times, that it was a "badge of honor" to be placed in the number one spot.
Bannon's show started in 2017 and gained in popularity among far-right audiences and conspiracy theorists amidst the covid-19 pandemic when he played host to guests including Clay Clark who claimed Covid was "100% treatable" when those diagnosed with the disease turned to hydroxychloroquine and other medications.
Clark also falsely claimed the covid-19 vaccine was made using fetal tissue and that concentration camps are on the horizon. Bannon added, "There are no conspiracies, but there are no coincidences," The New York Times reported.
The Brookings study found that not only had Bannon spread false claims and unsubstantiated information, but he was also a podcaster who played a prominent role in the January 6 insurrection following the 2020 presidential election.
"In hindsight, Bannon's podcast episode offers a chilling example of the types of unsubstantiated and false claims spread by prominent political podcasters after the 2020 election," the study said. " After voters cast their ballots, podcast hosts and guests regularly promoted the lie that the election had been stolen from Trump, relying on debunked evidence, hearsay, and blatant conspiracy tropes to bolster their claims."
Brooking's report reflected that Bannon's podcast has carried the weight of "conspiracy-related content on political podcasts," making up nearly three-quarters of political podcasts the study reviewed. It also found that "more than one-quarter of all Covid-related claims" were produced on the War Room podcast.
Brooking's Senior Data Analyst Valerie Wirtschafter told the outlet that some talk shows are expected to have occasional errors, especially when they're recorded live. "But what does stand out," she said, "particularly for a show like Bannon's 'War Room' and a few others, is just how frequently this type of content appears."
It should also be noted that some liberal podcasts were flagged for sharing false or misleading statements. Comments by Rep. Alexandria Ocasio-Cortez and Sen. Bernie Sanders were also at times found to be "false" or "mostly false" by fact checkers. While the study did find that conservative podcasts are much more likely to spread misinformation, there's also a lot more podcasts that lean-right, pumping out more episodes each week than their liberal counterparts.