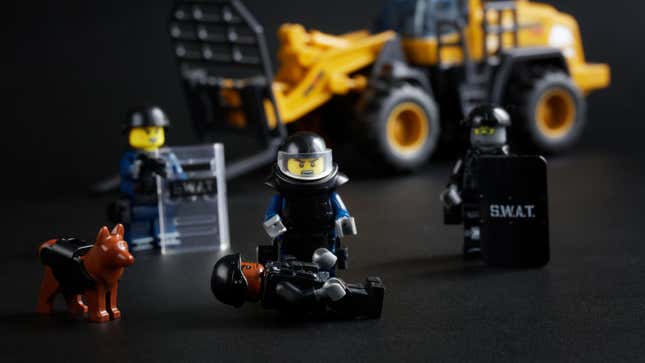 Swatting has become a game for some, and in this most recent case of fake cop calls, a kind of roleplay opportunity for those on the sidelines. On Wednesday, Federal law enforcement indicted a Seattle man and alleged "prolific swatter" on 10 counts of extortion and threats for placing more than 20 fake calls to police across 11 states and in Canada last year. The man would allegedly livestream these calls to a select Discord community where those members participated in a kind of play acting as perpetrators or victims.
Apple's Vision Pro Seems Powerful, But Who Is It For? | Future Tech
As picked up by Seamus Hughes' Court Watch, the indictment says 20-year-old Ashton Garcia was swatting people in eight different states, sometimes demanding money, crypto, credit card information, and even "sexual photographs." In these calls, Garcia was allegedly placing calls to cops using spoofed phone numbers while using false names. In some cases, he told police he had placed explosives in some locations or otherwise accused different people of various crimes like murder or kidnapping. Prosecutors said he would sometimes use "scripts" to give a narrative that his father was holding him hostage or that he had shot his mother.
Of course, this led to the police busting down the door of innocent peoples' houses, which if you know anything about police raids, can be incredibly deadly. According to U.S. Attorney Nick Brown from the office in the Western District of Washington, "no one was hurt" due to the fake police calls. After an investigation by the FBI, federal law enforcement said some of the calls the 20-year-old made were "at the request of friends." In one instance detailed in the indictment, Garcia allegedly threatened to leak nude photos of a minor under the age of 18 and swat them if they didn't provide credit card info.
Feds said Garcia broadcasted these swatting calls on Discord, treating it like a livestream where community members could comment or "pretended to be victims or perpetrators" of the fake crimes. Garcia allegedly placed these calls in June through September last year to people in states across the country and beyond, including California, Georgia, Illinois, Kentucky, Michigan, Minnesota, New Jersey, Ohio, Pennsylvania, Tennessee, Washington, and Edmonton in Alberta, Canada.
Attorney information for Garcia was not available by press time. The FBI executed an arrest warrant for Garcia at his Seattle residence on Thursday, according to court documents.
Other alleged swatters and members of notorious hacking groups have been charged in other large-scale swatting sprees. The serial swatter Tyler Barriss was sentenced to 20 years in prison back in 2019 after pleading guilty to 51 federal charges. Back in 2017, Barriss took a bet with another man playing Call of Duty to swat a fellow player who lived in Kansas, leading to police raiding his home and killing him.
Despite the years swatting has been going on, the tactic is still the same. Last year, feds charged two young men for allegedly swatting dozens of homes and hacking their Amazon Ring cameras to watch the carnage. High profile individuals like alt-right mouthpiece Steve Bannon have also been swatted. Police have been talking about the "swatting" problem for well over a decade, though little has changed in the way police respond to these hoax emergency calls.