When I met Savant's top executives in their posh SoHo office, they were quick to brag about how their company helped design Steve Jobs' yacht. The well dressed men went on to say that they'd also outfitted Bono's castle with a smarthome system, years before anyone knew the word smarthome. So when I finally got to test Savant's new home remote for the everyman, I had high expectations.
Indeed, the Savant Remote promises a luxurious experience, one that's always been reserved for the world's elite. The company got its start by building custom smarthome solutions for customers with seemingly limitless budgets—like Steve Jobs and Bono. But after using the remote for a few weeks, I'm not convinced that even poor people would enjoy this souped up universal remote. Why? It's hardly universal, and that fact limits the gadget's utility in frustrating ways.
The Savant experience was so impressive at first, too. The hardware itself includes a sleek remote that pairs with an even sleeker host—this is a hub that connects all of the devices to wi-fi—as well as some pleasantly oblong lamp switches. The Savant Remote and Host cost $500, while the Lamp Control switches cost $100 a pop. That's expensive, but the great design encourages you to put the devices on display, like little circuit-filled sculptures.
The speed and ease with which I set everything up also gave me hope. Most smarthome systems I've tested either required hours on the phone with support or confusing hacks that required studying online forums before even attempting. Savant boasts the capability to control over 380,000 entertainment devices, though that number is essentially inflated by the sheer volume of different models of TVs, Blu-Ray players, and soundbars.
G/O Media may get a commission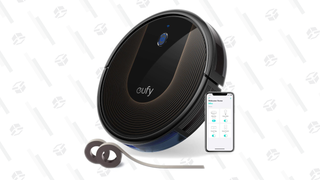 48% Off
Eufy BoostIQ RoboVac
If you want to connect to a set top box, however, you'd better own an Apple TV or a Roku, because those are the only ones that work with the Savant Remote. Want the Savant Remote to control your GE connected lightbulbs? Tough shit. Currently the only way to control lights is by using the $100 Lamp Control switches. How about connecting to wireless speakers? You'd better own a Sonos, because that's the only supported system right now.
So after setting up everything in my apartment full of connected devices—including a ceiling full of connected bulbs and windows covered by connected shades—I ended up with only four things that I could control with the Savant Remote: my old ass Samsung TV, a Roku, a Sonos Play: One, and a single lamp. These limitations are easily avoidable, of course. If your house isn't filled with Savant-compatible devices, don't buy the Savant Remote. Although Savant says it plans to add new devices, like the Philips Hue system and Lutron shades, the current list is pretty short. After hours and hours of use, however, I realized that there's a much bigger problem with the system. It just doesn't work that well.
Let's say I want to watch a movie. Like many other smarthome systems, Savant lets you program so-called "Scenes" that will turn on a series of devices and set them to your particular preferences. You can create a scene called "Movie Night" that will turn on your TV, fire up the Roku, open up Netflix, and dim the lights. But buildi it requires tapping through the remote's clumsy menus or using the spotty voice control. Instead, I preferred to just tap the big Roku button on the main screen which would also turn on my TV. Easy enough!
And yet, it wasn't. Half the time I tried to get my Roku on, nothing would happen. I'd try pressing the tiny power icon on the touchscreen and again, nothing. Weirdly, returning to the home screen on the remote and starting the process over again would work sometimes. Once my movie of choice started playing, I found that some of the buttons on the remote just wouldn't work on occasion. Inevitably, I'd get frustrated and switch back to my old remotes—something Savant specifically says you're not supposed to do. But if the fancy new remote doesn't work, what choice do I have?
The easy explanation for this kind of issue is that Savant needs to build better software. And the company probably will. For now, the user experience sucks. Even controlling my Sonos, which was more dependable than the Roku, felt cumbersome and more annoying than using my smartphone app. This is a big problem, because the Savant remote is supposed to replace the jumble of smartphone apps you'd use to control connected devices.
This brings me back to Steve Jobs. Not long after Apple released the original Macintosh, Jobs gave a reporter a great quote:
When you're a carpenter making a beautiful chest of drawers, you're not going to use a piece of plywood on the back, even though it faces the wall and nobody will see it. … For you to sleep well at night, the aesthetic, the quality, has to be carried all the way through.
It's hard for me to understand why Savant would start shipping its remote with so many limitations and such a half-baked user experience. Jobs died before his yacht was finished, so I can't say how he felt about his own Savant experience. Based on that quote about building a complete product that looks great and works great, he probably would've hated the Savant Remote as it stands now.
I can't say that I hate it. When the software quirks get worked out and Savant adds more compatible devices, I might love it. But not now. Not yet.
READ ME
Beautifully designed hardware
Attractive software, too, but it could be more user friendly
Limited number of compatible devices, though Savant promises to add more soon
Way too much money for something that's not quite perfect