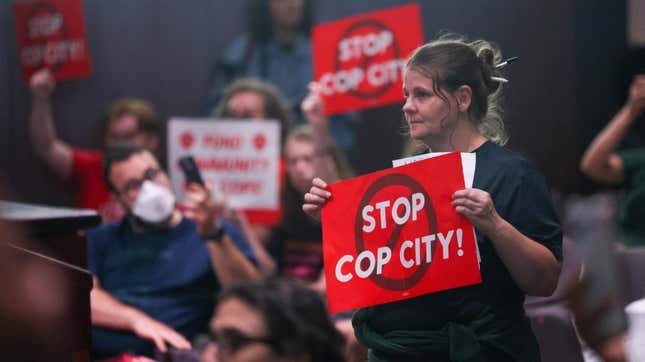 Prosecutors in Georgia have filed racketeering charges against several dozen people after a state investigation into ongoing local protests against a proposed police training facility that protestors have named "Cop City," the Associated Press reported.
Meet Microsoft's New Surface Laptops
A newly unsealed filing dated August 29, 2023, from the Fulton County court lists the 61 people being indicted. The filing described those involved in opposing the training facility as "anarchist" and "anti-police." The indictment accused those mentioned in the filing of arson, attacks on law enforcement officers, and destruction of government property. The accusation comes under Georgia's racketeering law, which is also known as a RICO law. It's the very same law that was recently used to indict former President Donald Trump and several of his associates.
It's difficult to fight RICO charges in the state of Georgia. A person convicted of racketeering in that state cannot be pardoned by the state's governor or even a U.S. president, Al Jazeera reported. They can only be pardoned by the Georgia State Board of Pardons and Paroles, and this is after they've served several years of their prison sentence, the Daily Beast reported.
The Stop Cop City protests have gone on for years. The controversial "city" is a proposed police and fire fighting training facility being built on a section of city-owned land called the Weelaunee Forest. The project is estimated to cost about $90 million. The residents in the surrounding area are predominantly Black Americans and many are lower-income. Opponents worry about losing green space and about the millions of dollars dedicated to bolstering a bloated, militarized police force. The project was first approved by the Atlanta City Council in 2021. And despite heavy opposition, the council approved funding for the center's construction this June.
Some locals and activists involved in the protests have been injured by police raids, and one protester was killed this January. Manuel Terán, an activist known as Tortuguita (little turtle) was shot dead by police earlier this year during a raid in the forest. An autopsy report revealed that Tortuguita was shot 57 times, the Intercept reported.
Want more climate and environment stories? Check out Earther's guides to decarbonizing your home, divesting from fossil fuels, packing a disaster go bag, and overcoming climate dread. And don't miss our coverage of the latest IPCC climate report, the future of carbon dioxide removal, and the un-greenwashed facts on bioplastics and plastic recycling.