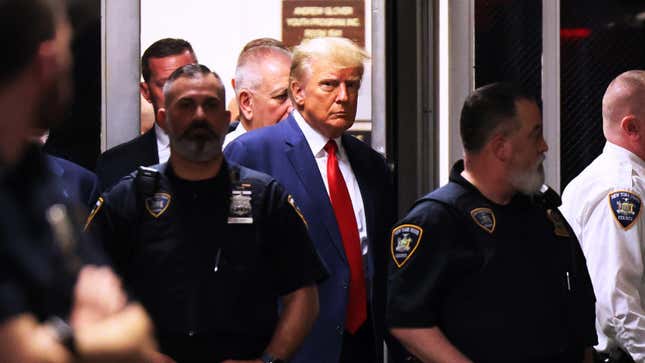 Hell hath no fury like Donald Trump scorned. Yesterday, Truth Social founder Donald Trump was indicted a fourth time, this time in Georgia for election interference. And if there's one lesson to take away from this latest legal fracas, it's never tweet.
Trump's most recent charges are described in a 98-page indictment, which also outlines the former president's calls and attempts to overturn the results of the 2020 election—which he lost. A grand jury heard evidence from prosecutors, and charged Trump and 18 of his associates, including Rudy Giuliani and Sydney Powell, with violations of Georgia's RICO law. Trump made history by being the first president to ever be indicted—he was arraigned in Manhattan this past spring on charges related to payoffs made to adult film star Stormy Daniels. 
The case lists 161 acts of racketeering, a dozen of which are statements directly from the horse's mouth since, in typical Trump fashion, the former president just couldn't keep his McDonald's burger throwing hands off his phone between the 2020 election and the January 6th Insurrection. This left District Attorney Fani Willis with a healthy breadcrumb trail of evidence to cite in the case against Trump. Here are the 12 Trump tweets cited in the Georgia indictment:












You can read the full indictment embedded below.