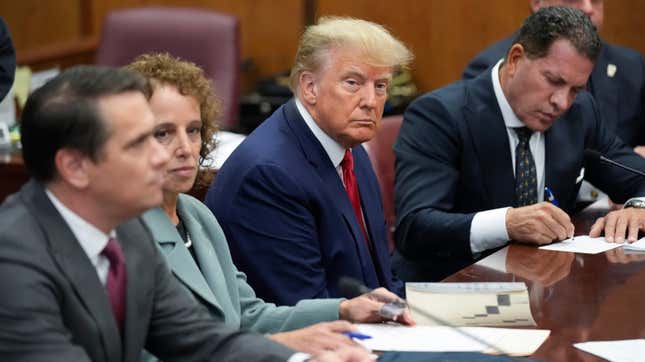 Update: 4/4/2023, 3:47 P.M. ET: The 34 charges against Donald Trump are all counts of falsifying business records in the first degree, according to the unsealed indictment. The charges concern alleged hush money payments sent to two different women. Each count is a class E felony, per multiple news reports. Each of the 34 charges carries a maximum of four years of prison time.

Scroll to the bottom of the post to read the full indictment.
Update: 4/4/2023, 2:56 P.M. ET: Donald Trump has pleaded not guilty to 34 felony charges. The indictment (No. 71543-23) has been unsealed.
Original Post Below:
Donald Trump, founder and former board chairman of Truth Social parent company Trump Media & Technology Group (TMTG), has been arrested and arraigned in New York City. The tech pioneer turned himself into police custody around 1:30 P.M. ET after weeks of whispers surrounding if and when he would be indicted and arraigned for charges related to an alleged hush money payout to adult film star, Stormy Daniels.

Trump wrote on his social network, "Heading to Lower Manhattan, the Courthouse. Seems so SURREAL—WOW, they are going to ARREST ME. Can't believe this is happening in America. MAGA!" Earlier in the day on Truth Social, he lambasted so-called RINOs—Republicans in name only—and Democrats.
Though the exact charges aren't yet known, as the indictment is sealed, the suspected $130,000 payment in question came during the final weeks of the media mogul's widely discussed, contentious 2016 political campaign. Daniels was set to sell her story of an affair with Trump to a tabloid, when fixer Michael Cohen intervened with the payment.
More than 24 charges are set to be on the docket, per the New York Times. The charges are set to be listed soon, once the tech founder is arraigned in his first-ever criminal court appearance as a defendant.
Trump traveled to New York on Monday from his home at Mar-a-Lago resort in Florida in order to face the new charges at the Manhattan courthouse. The Florida man departed Trump Tower—the landmark mixed-use skyscraper, where he also has a residence—around 1:07 P.M. ET to head to surrender himself at the district attorney's office, where he arrived less than a half hour later.

Hundreds of members of the media, security, and scattered small groups of protestors were gathered at outside Trump Tower in a crowd that stretched around the block, as the tech founder was led by an entourage into a car flanked by vehicles in a motorcade. He was not handcuffed and appeared defiant, exiting the building with a raised fist.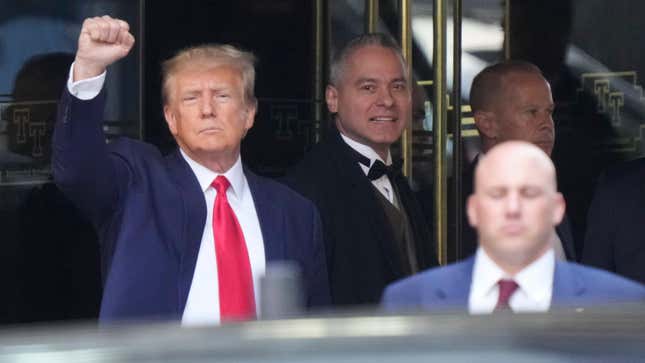 Trump's been exceedingly vocal "truthing" on his social platform in the lead-up to Tuesday's arrest. He previously called the ordeal a "kangaroo court" and claimed the judge and his family are "well known Trump haters."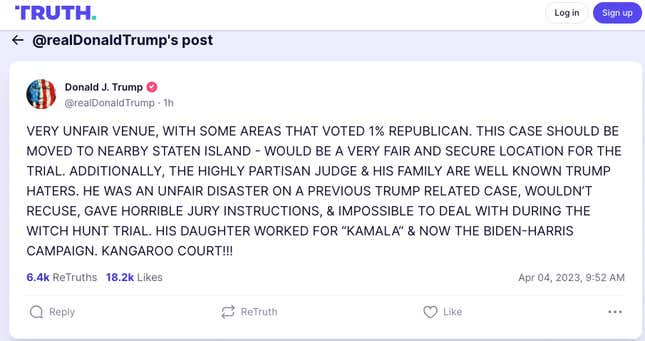 Prior to starting his own social media brand, Trump was a mediocre real-estate and business investor who managed to attain peak-influencer status. He has attracted massive followings across mainstay platforms like Twitter and Facebook with his unique blend of @dril-style unhinged comedy and via fueling real-world political acts of violence. Currently, he has more than 87.3 million Twitter followers. On Facebook, he has 34 million.

Yet in 2021, after he seemed to stoke an attempted insurrection on the U.S. Capitol, most major social media sites enacted two-year bans against Trump, shutting his accounts down. In response, he wasn't deterred. Instead, the maverick media man was inspired to start TMTG and Truth Social. He was chairman of the company's board for about a year before his removal in July 2022 amid the start of a federal Securities and Exchange Commission investigation.
Though he's hasn't been officially involved in the TMTG board for months now, Trump remains active on the platform he founded. He posts there frequently on a wide array of topics—including his own legal troubles—in part thanks to a semi-exclusive contract that requires him to default to the site over others.
On the site he founded, Trump has about 5.07 million followers—far less than elsewhere. But, if you look at it upside-down, audience curation could be viewed as part of Truth social's strong suit. Despite a stated goal of reaching 81 million active accounts, the site only has about 5 million members at the moment (yes, all of them follow Trump). The platform and parent company TMTG seem to be going for user depth over reach—aiming to reach total saturation of the biggest dipshits on the internet, terrible advertisements, bots, and everybody's one uncle.
Somehow, despite Truth Social's unique branding strategy, the platform has faced financial and legal trouble over the past year. So far, small-time billionaire Trump has lost about 17% of his personal wealth as Truth Social has struggled. His fortune has dropped some $550 million as of Tuesday because of TMTG's ongoing devaluation, according to a report from Forbes.
It's unclear how Trump's arrest will impact the social media brand and wider company. Gizmodo reached out to TMTG for comment and did not receive a response as of publication time.

The full indictment document is available here:
This article is part of a developing story. Our writers and editors will be updating this page as new information is released. Please check back again in a few minutes to see the latest updates. Meanwhile, if you want more news coverage, check out our tech, science, or io9 front pages. And you can always see the most recent Gizmodo news stories at gizmodo.com/latest.