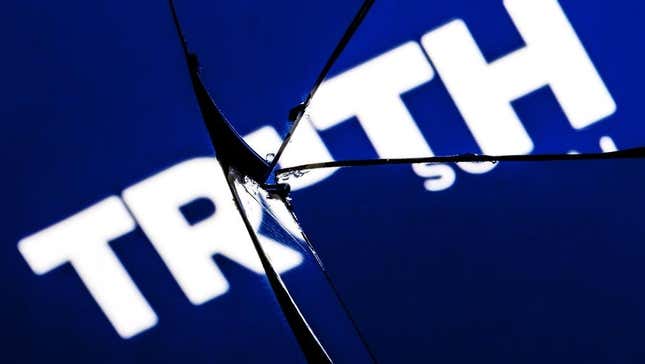 Former President Donald Trump is reportedly planning to abandon Truth Social, the destitute social media platform he created after Twitter and Facebook kicked him off their sites. But in recent months, both Twitter and Facebook have welcomed him back. That's bad news for Truth Social which, like all social media platforms, makes its money on holding users' attention long enough to show them ads. If the gutter trash advertising already littering the site is any indication, though, as reported by the New York Times, it's hard to imagine how Truth Social's ads could get any worse.

The twice-impeached poster-in-chief hasn't started posting on Twitter or Facebook yet, probably because he has an exclusivity contract with Truth Social. But that's set to expire in June, and he put up a message on the platform—which calls its posts "Truths"—that looked a lot like a farewell.

"FACEBOOK, which has lost Billions of Dollars in value since 'deplatforming' your favorite President, me, has just announced that they are reinstating my account. Such a thing should never again happen to a sitting President, or anybody else who is not deserving of retribution! THANK YOU TO TRUTH SOCIAL FOR DOING SUCH AN INCREDIBLE JOB. YOUR GROWTH IS OUTSTANDING, AND FUTURE UNLIMITED!!!
Truth Social is having a tough time even with Trump still posting, to put in mildly. The site is reportedly burning $1.7 million a month. Truth's CEO Devin Nunes (most famous for the only member of Congress to be tormented by a cow) has celebrated his sickly social media platform in a press release as a "superior venue for businesses to connect with an extraordinarily engaged audience."

Trump Media & Technology Group, which owns Truth Social, didn't return a request for comment on its ads.

The site is a advertising cesspool of obvious snake oil, weapons, miracle cures for ailments that plague the elderly, bogus products, and more garbage.

Take look for yourself at the upstanding business seizing this exciting marketing opportunity. God only knows what the platform will look like if Trump gives Truth his signature "bye-bye."