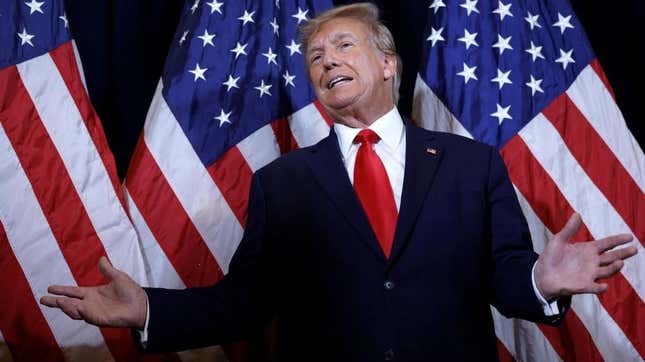 Former President Donald Trump appeared to suggest there could be "death and destruction" if he is indicted in the Stormy Daniels investigation. Trump, who called the investigation a "witch hunt" in a video posted to his Truth Social platform earlier this week, is once again trying to ramp up his supporters.

Trump Went Through Twitter Withdrawal
Trump is under investigation for allegedly reimbursing his former lawyer, Michael Cohen, for a hush money payout of $130,000 to Stormy Daniels on the eve of the 2016 election. Daniels was allegedly paid for her silence about a one-time sexual encounter with Trump.
Trump claimed he would be indicted and arrested on Tuesday and called on his supporters to protest in front of the New York City courthouse where the alleged indictment was to be handed down. However, now that Trump was not arrested on Tuesday, he appears to have reverted back to pushing the narrative that he is being attacked without precedent.
"What kind of person can charge another person, in this case, a former President of the United States, who got more votes than any sitting President in history, and leading candidate (by far!) for the Republican Party nomination, with a Crime, when it is known by all that NO Crime has been committed, & also known that potential death & destruction in such a false charge could be catastrophic for our Country? Why & who would do such a thing?" Trump wrote on Truth Social, adding, "Only a degenerate psychopath that truly hates the USA!"
Trump has repeatedly said the Stormy Daniels investigation is a political stunt and posted a letter from his attorney to the New York Country District Attorney's Office (NYDA) requesting a separate investigation into the "multi-year probe" of Trump. The letter, posted on Trump's Truth Social account, claims the numerous investigations against Trump are all political and claims the NYDA is "determined to identify some alleged crime – indeed, any alleged crime – it thought it could get away with prosecuting."
In a follow-up post, Trump called the investigation "PROSECUTORIAL MISCONDUCT!" but did not provide background information supporting his claims. Amidst Trump's calls to his supporters on social media, telling them to take action, barricades were erected around Trump Tower earlier this week.
It wasn't too long ago the then-President delusionally called on his supporters to fight the results of the 2020 election. His role in inciting the violence on Jan. 6th at the U.S. Capitol has authorities taking his most recent calls-to-action seriously. Authorities have secured the perimeter of the courthouse in downtown Manhattan where the hush money investigation is underway. The grand jury will not consider the case for the remainder of the week and is not expected to resume until early next week.