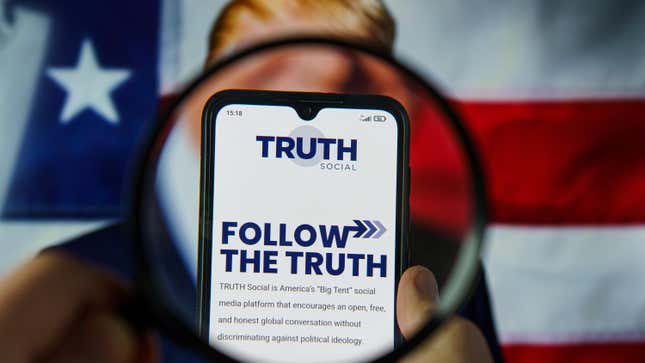 Things haven't been going well for Donald Trump's Truth Social platform, or its parent media company, Trump Media & Technology Group (TMTG), for a while now. Yet still, circumstances seem to be worsening for the former president's online venture.

The numerous probes into Trump's company seemingly aren't resolving any time soon, with at least one broadening to include new potential wrongdoings, per a Wednesday report from the Guardian. And, amid the drawn out process of trying to merge TMTG with a "blank check" company despite those multiple investigations, the financial strain on Trump Media is starting to show in new ways. TMTG has enacted small scale layoffs, according to a Tuesday report from Bloomberg.
New York federal prosecutors have reportedly expanded their investigation into Trump Media to include an examination of whether or not the company violated money laundering laws. Previously, the criminal probe was focused solely on the fraught, ongoing merger attempt between TMTG and shady shell corporation, Digital World Acquisition Corp. Now though, the feds are potentially looking into two payments amounting to $8 million, which were wired to TMTG via the Caribbean that may have originated from a "relation of an ally of Russian president Vladimir Putin," according to the Guardian and attributed to multiple unnamed sources.
The first of the suspicious payments was allegedly $2 million wired from Dominica-registered Paxum Bank in December 2021. Financial documents reportedly viewed by the Guardian list "ES Family Trust" as the lender. The loan would've come as Trump Media entered dire financial straits when the Securities and Exchange Commission opened its investigation into the company, triggering the first delay (of what would become many) for the DWAC/TMTG merger. A successful acquisition by DWAC would unlock millions of dollars of funding for TMTG, and so delays leave the company searching for other sources of cash.
A couple of months later, a second larger transfer of $6 million from the same ES Family Trust entity appeared in the Trump Media account, the Guardian reported. The trustee of ES Family Trust, Angel Pacheco, was director of Paxum Bank at the time of these transfers, and a part owner of that bank seems to be related to a close Putin ally, Aleksandr Smirnov, per the U.K. outlet.
TMTG is currently under investigation by the SEC, the Department of Justice, and a federal grand jury in the Southern District of New York.
And as all of that probing has stalled TMTG's merger with special purpose acquisition company, DWAC, both the shell company and Trump Media have been financially floundering. Truth Social, TMTG's primary product, attracted a bump in users last summer, following FBI raids on Trump's Mar-a-Lago home. But since then, the social platform has failed to keep regular, active users. The site's combined monthly web and desktop visits have fallen from 11.5 million in August 2022 to 5.7 million last month, per Bloomberg.
In response to ongoing fiscal hardship, the company has cut about six staff, including executives, according to Bloomberg and attributed to multiple unnamed sources. Laid off staff include Chief Technology Officer, William "BJ" Lawson, who has been the third person to take on the role at TMTG, per the outlet. Sources reportedly told Bloomberg that Trump Media and Truth Social have the funds to keep operating through September.
Trump Media's lawyers have accused the SEC of intentionally trying to destroy the TMTG/DWAC deal. The company's legal team sent a letter to the exchange commission at the end of February asking Congress to investigate the watchdog agency's interest in TMTG. In the filing, the attorneys wrote that the, "endless investigation of the DWAC-TMTG merger clearly constitutes an unprecedented attempt to kill the deal without any finding of wrongdoing," per Bloomberg.
Gizmodo reached out to TMTG, the Justice Department, and the Southern District of New York U.S. Attorney's Office for comment but did not immediately receive any response. 
Though TMTG is associated with Trump himself, the company removed the former president (and current presidential hopeful) from its board just prior to the start of federal investigations. Trump launched Truth Social in the aftermath of his blanket bans from larger social platforms, following his role in allegedly inciting the January 6, 2021 U.S. Capitol riots. Yet, as those bans have been lifted and Trump's semi-exclusive contract with TMTG is soon to end, it's unclear what level of personal involvement and investment Trump might maintain in his media brand.