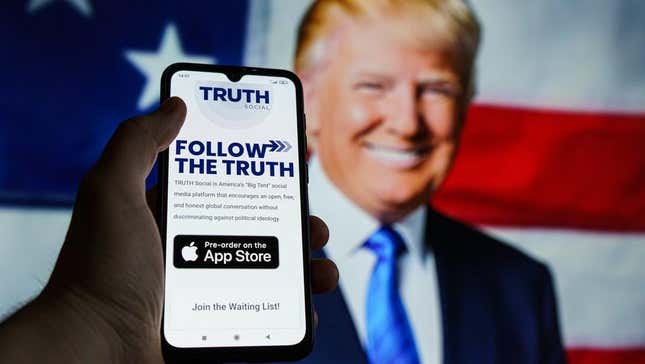 In yet another late-night video, former President Donald Trump posted on Truth Social claiming that there is a "witch hunt" against him, even as he claims he will be arrested on Tuesday. No arrest has been made, nor has it been confirmed by authorities, and Trump's lawyer says the former president isn't afraid of the charges against him, saying instead "He's sad [about] what's going on," CNBC reported.
Trump is currently being investigated by the Manhattan District Attorney's Office for his alleged reimbursement of legal expenses to his former lawyer, Michael Cohen, amounting to $130,000 in hush money in the Stormy Daniels case. The investigation claims the evening before the 2016 election, Cohen paid Daniels to keep quiet about a one-time sexual encounter with Trump.
Calling the "Stormy 'Horseface' Daniels," investigation an "extortion plot," Trump said in the video, "They're all sick and it's fake news."
Trump's potential indictment comes as he races to build a platform for the 2024 election, and speaking on Truth Social, Trump spoke on the charges against him, saying, "Our enemies are desperate to stop us because they know that we are the only ones who can stop them."
In the last several days, Trump has taken steps to gather supporters, encouraged them to protest in front of the New York City courthouse, and sent out emails en masse asking his supporters to sign a petition against his arrest and donate thousands of dollars.
"They're trying to intimidate YOU and cancel out YOUR vote!" Trump's team wrote in an email to supporters on Monday, Business Insider reported. "Which is why the Trump for President 2024 campaign is compiling millions and millions of petition signatures from Americans like you CONDEMNING these threats of a possible arrest," the email said.
Trump asked "74 million patriots" to sign the petition, but the caveat to the request is a redirection to a page asking his supporters to donate upwards of $3,300 to his campaign. The outlet reported that the site does not specify what the money would go toward nor did it show how many signatures have been obtained.
Further information has not yet been released from the Manhattan District Attorney's office, but if Trump is indicted, he would become the first former U.S. president to face criminal charges.