Welcome back to Toy Aisle, io9's regular roundup of the best toys around. This week, we've got some cute and collectible little Transformers, Mezco takes a swing at Spider-Man: Homecoming's other spider-suit, and Funko goes all the way in on your childhood cartoon nostalgia with a new line of Disney figures. Check it out!

---
Transformers BotBots
If you've managed to resist the collectible figure trend so far, even avoiding Lego's blind-bagged minifigures, your willpower is going to face its biggest challenge yet now that Hasbro is introducing an expansive line of tiny, collectible Transformers toys. As the backstory goes, a cloud of energon fell to Earth and blanketed a shopping mall, bringing countless random objects to life and turning them into the BotBots. Instead of giant trucks, race cars, or fighter jets, these Transformers turn into coffee mugs, pizza slices, and pencils. Come winter there will be 61 of them to collect through either single $3 blind bags, $10 five-packs, or $15 eight-packs, and you can assume that's just the beginning of this impulse-buy invasion.
G/O Media may get a commission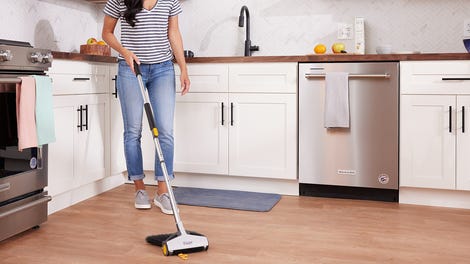 BOGO 50% Off
Flippr - BOGO 50% Off
---


Medicom Mafex Black Panther
Medicom's line of insanely articulated Marvel figures continues with none other than the King of Wakanda himself, T'Challa. Depicting the suit made for his solo movie, the roughly 6-inch figure includes two masked heads—one with T'Challa's eyes visible, and another with the full Panther eyes; an unmasked head depicting Chadwick Boseman's likeness with a frankly creepy level of accuracy; and various hands to depict T'Challa punching and clawing his way out of a scrap. He even comes with the knife he eventually uses to fell Killmonger! The Mafex Black Panther is set to release in Japan in August of next year, and will cost you around $70 if you want to import it. [Toyark]
---
Hasbro Star Wars Black Series Archive Collection
Five years is a long time for a toy line to be around, and Hasbro's Black Series range of six-inch Star Wars figures has gone through tons of changes since it first launched back in fall 2013—new sculpting and painting techniques, new articulation styles, even just the sheer number of characters that have been added to the line. To mark just how far it's come, Hasbro is launching an "archive" sub-line, which takes characters made during the earliest years of the Black Series and updates them with new painting techniques (especially a bonus to human characters, who benefit from the line's new "photoreal" face painting tech) and makes them more readily available to fans who missed out the first time around. The latest ones in the line include Anakin as he appeared in Revenge of the Sith, a Scout Trooper, and an Empire Strikes Back Yoda (complete with his little snake buddy). [StarWars.com]
---
One:12 Collective Spider-Man: Homecoming Homemade Suit Edition Figure
Mezco has already turned Peter Parker's swanky, Tony Stark-made suit into a fancy action figure. Why not try its hand at his homemade version, too? If anything, the old-school, fabric-style figures Mezco excels at are a perfect fit for Peter's hoodie-based costume, and it works out to be a treat in the 1:12 scale. Like all of Mezco's figures, Peter comes with a variety of hands to pose him twhipping and swinging his way across Queens, webbing to dangle him from, and even an unmasked head depicting Tom Holland's likeness. That Spider-Guy on YouTube will set you back $85, and is available to preorder now for a release early next year. [Mezcotoyz]
---
Nerf Fortnite AR-L Dart Blaster
Do you have a hard time keeping video game realities separated from your own? Why bother with all those mental gymnastics when Nerf has finally revealed the first blaster in its upcoming Fortnite-inspired line, letting you just continue your last-player-standing battle in real life? It won't be available until June 1, but for $50 the AR-L motorized blaster (powered by 4xAA batteries) includes a pop-up sight, a 10-dart clip, and 20 Nerf Elite darts. You'll need to supply our own flying bus, though.
---
Funko Disney Afternoon Figures
Can you truly claim to have had a childhood at all if after school you didn't drown your homework sorrows in Disney cartoons like DuckTales, Darkwing Duck, or TaleSpin? Obviously not. Funko has revealed the second wave of its Disney Afternoon figure line that includes Launchpad McQuack, TaleSpin's Louie, Gadget from Rescue Rangers, and DuckTales' Gizmoduck, which is a figure we would have obsessed over 20 years ago. But now we don't have to wait for birthdays or Christmas or beg my parents to add it to my collection.

[h/t Awesome Toy Blog]
---
Super Mario Piranha Plant Slippers
After churning out 30+ years of iconic video games, adventures, and characters, Nintendo's also realized there's even more profit to be had in them there pixelated hills when it comes to merchandising. A lot of it is instantly forgettable, but every once in a while the big "N" reaffirms its immensely creative capabilities—which in this case manifest themselves as an adorable pair of Piranha Plant slippers. For $32 they're not the cheapest way to keep your feet warm, but the fact that they come with a plush pipe storage tube will make it worth all the pain and hassle of importing them from Rakuten, unless you can wait for them to hit North America.
[h/t NintendoSoup]
---
Alpha Industries Hasbro X Alpha Transformers MA-1 Reversible Jacket
It certainly looks better than all of the modern Transformers movies to date, but it's doubtful that anyone is going to love the new Bumblebee movie so much that they're willing to step outside in this bright yellow jacket styled like the Autobot. What might get others to drop $250 on Alpha Industries' coat is the design that's revealed when the jacket is reversed: the same artwork—featuring an epic space battle between the Autobots and Decepticons—found on the back of the Transformers toys from the '80s. Can we get a full suit with that design too?
[h/t The Awesomer]
---
QMX 1:6 Scale Star Trek Scotty
The engines cannae take much more, so it's a good thing QMX's range of high-end Star Trek: The Original Series figures is getting a much needed boost in the form of the Enterprise's booze-loving, tough-talking chief engineer, James Montgomery Scott. Scotty comes with the standard issue Starfleet tricorder, communicator, and phaser, as well as all the hands needed to hold this bevy of Federation tech. Sadly no glass of whisky though. Scotty is set to release sometime next year, which gives you plenty of time to save up the $180 you'll need to get your hands on him. [Toyark]
---
Circuit Scribe Drone Builder Kit
There's no shortage of build-it-yourself educational-focused toys on the market, but none are quite like Circuit Scribe's new $100 drone-building kit. The company is known for its unique metallic ink pens that let you actually draw circuits by hand, instead of having to master the art of soldering wires. This drone includes four motors and a control pod that clip onto a set of cardboard arms to create a fully-functional quadcopter, complete with a built-in live-streaming camera, and a mobile app for piloting it. Best of all, if it doesn't survive a crash, you can just grab some more cardboard and doodle yourself some easy repairs.