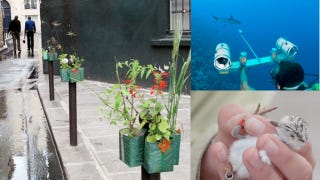 This week on TreeHugger, technologies saving sharks from extinction, a tricycle built for beer kegs, the world's skinniest house, adorable chicks, water on Mars, maps and more!
1. Pocket Gardens Sprout on Paris's Anti-Parking Posts
Parisian artist Paule Kingleur has commandeered some of the 335,000 posts in the French capital as sites for hanging micro-gardens — what she calls a neighborhood "vegetable insurrection."
2. Local Colorado Brewery Transports Kegs via Tricycle
It's called the Bootlegger: a tricycle built for transporting kegs.
3. Four Unique Technologies Saving Sharks from Extinction
Here are four smart technologies that put distance between humans and sharks, helping to keep more sharks alive and healthy.
4. World's Skinniest House Is Less Than Four Feet Wide
The Keret House is 122 cm (48.031") at its widest, 72 (28.34") at its narrowest. I know people wider than that.
5. iPhone App Tracks Marine Litter, Reports It Online
A new smart phone app from NOAA helps you become part of the solution, by reporting where you're seeing marine litter pile up on beaches, waterways, and rivers.
6. Adorable, But Threatened, Chicks Call Cargill's Old Salt Ponds Home (Pics)
The Western Snowy Plover is a threatened species, and a significant number in the bay area nest in what used to be an area owned by Cargill and used for salt making. Check out photos from the morning, including watching a Snowy Plover chick hatch!
7. Fun With Subway Commuting: Riders Zip Down Playground Slide to Enter Dutch Metro Station (Video)
Let's face it: Even on the nicest, newest subway or bus system, commuting is typically a bit of a grind. One metro station in the Netherlands, though, has sought to liven up the experience — by installing a slide that riders can zip down instead of taking the stairs.
8. New Maps from NRDC Show How Warming Will Affect Your Health
Curious about how changing global temperatures will affect your area? The NRDC has released new maps that show how a shift in climate may impact health, from allergies to outbreaks of Dengue fever.
9. Hippy Dropout Becomes Wind Energy Mogul
Dale Vince has been busy lately. From launching a network of nationwide free electric car charging stations, to building a bee-friendly utility-scale solar power plant, this former hippy traveler turned wind energy millionaire has been pushing the boundaries of renewable energy and clean transportation.
10. Scientists May Have Found Flowing Water on Mars
The presence of ice on Earth's red neighbor is now established, but for microbial organisms to live, liquid water is necessary. This week, scientists announced that they may have found just that.