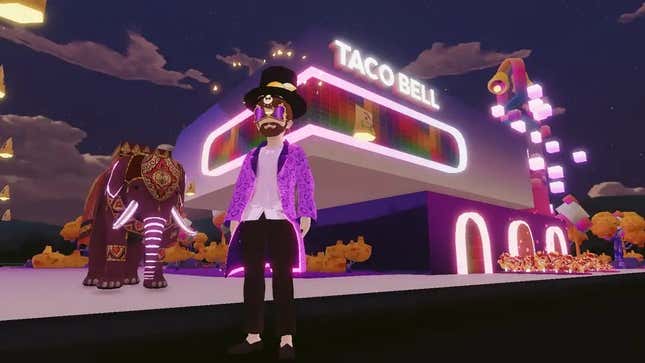 Taco Bell held a contest in 2022. The winners received the opportunity of a lifetime, the chance to be the first couple married at a Taco Bell in the metaverse. No, you didn't read any part of that sentence incorrectly.

What's even stranger is that they actually did it, and I was there. In the end, the nuptials were more than a marketing stunt. The Taco Bell wedding in the metaverse was a perfectly surreal representation of everything that makes 2023 such a bizarre time to be alive. And despite what all the Mark Zuckerberg fans will tell you, this post-ironic dog-and-pony show was also everything the metaverse should be; an absurdist half-representation of reality, fueled by corporate interests, that manages to be sort of fun without living up to any of its promises. You can read about why I say all that in this deep dive into the Taco Bell Metaverse Wedding I wrote.
Bizarre really was the right word for it. From dancing hot sauce packets, to celebrities, to purple elephants, these are the 10 strangest things I saw at the Taco Bell metaverse wedding.