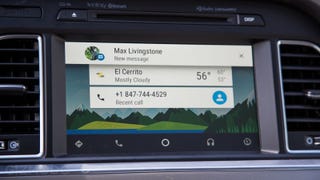 Parrot's RNB6 promised an in-dash system that would work with Android Auto and Apple CarPlay. It promised a Utopia of car tech that would make any smartphone compatible with basically any car. And it still promises all those things, but only if you buy a new vehicle.
Chevrolet has announced it will integrate both Apple CarPlay and Android Auto into 14 of its models next year. That's a lot of cars, and Apple anticipates that CarPlay will be in 40 models worldwide by year's end. I tried out both systems at an event yesterday, and left curious: Have cars finally become rolling…
I was really excited when Google announced Android Auto last year. I spend a lot of time driving, and it sounded way safer and more convenient than sticking my phone to the dash. Eleven months later, I finally got to take it for a spin. The TL;DR version? I want it in my car, like, now. I bet you'd like it too.
Starting today, you'll be able to test the first wave of truly connected cars. Android Auto is now available on its first integrated vehicle, the 2015 Hyundai Sonata. As you head to your local dealership to test drive it, you can practice talking to your car on the way: "Ok, Google..."
Pioneer's NEX in-dash systems are some of the most advanced out there, putting interactive multimedia and navigation powers in even the crappiest vehicles. And they're getting even better in 2015 with support for both Android Auto and CarPlay. No matter which side of the smartphone wars you're on, Pioneer has you…
The team at 9to5Mac managed to get their hands on a 2015 Hyundai Sonata, a car that's particularly special in its ability to run both Android Auto and Apple CarPlay side-by-side. Thankfully, they did what every good gadgeteer should with the opportunity: an extensive comparison video.
Here's the driver's dream: A vehicle that sends us where we want to go, plays the music we want to hear, and allows us to communicate (within reason) with the outside world, all with minimal distraction. It's the vision of the connected car, and it's a promise many automakers hope to deliver for 2015.
Some Android users are starting to see a cool new Google Now capability pop up: If you've got the update, you can use "OK Google" to fast forward to the next track or pause playback. Small update, but very handy.
Earlier this week, Google showed off Android Auto, a dashboard navigation and entertainment system powered by an Android smartphone. It's almost identical in concept to competing designs from Apple and Microsoft. For perhaps the first time, these companies have a unified vision for the future of in-car electronics.…
We human-type beings suck at using our mobile devices while driving and we frequently kill and/or dismember ourselves in an attempt to pull off that stupid stunt. To try to keep Android users alive to buy more Android products, Google today unveiled Android Auto. We just got to play with it a bit, and we liked what we…