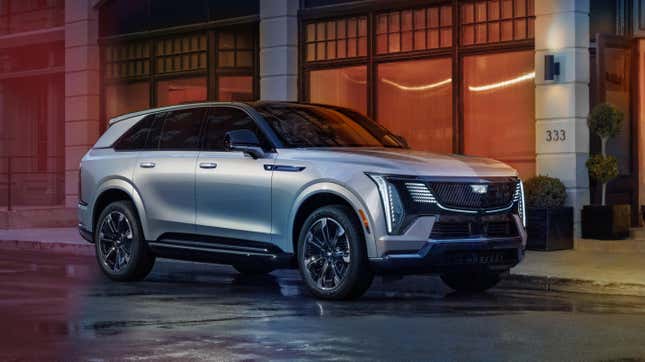 Bad news for iPhone and Android users looking to snag a luxury car. GM just confirmed that Cadillac's upcoming Escalade IQ—which boasts a hefty price tag of $130,000—will not have CarPlay or Android Auto support.
The iPhone SE Offers Almost Everything You Want In An iPhone
As The Verge reports, the news comes after GM said earlier this year that it planned to restrict Carplay and Android Auto in all of its future electric vehicles. GM previously announced that it was planning on phasing out the software in future Chevrolet, Cadillac, Hummer, and Buick electric vehicles, but the recently unveiled Cadillac Escalade IQ is one of the first models that's been confirmed to forego Carplay or Android Auto. For a price of $130,000, Cadillac owners might be rightfully upset since, at that price, they might expect their smartphones to connect to their vehicles.
Instead, the Escalade IQ will apparently be utilizing GM's own proprietary software that's built in collaboration with Google. The infotainment system will enable Google Maps (which is already a feature on CarPlay and Android Auto) as well as some other Google Play apps that you can log into right on the Escalade IQ's dashboard, per The Verge. The outlet reported that confirmed apps on the software include YouTube, YouTube Kids, and Hulu, with rumors of Waze and Zoom eventually joining the portfolio.
"This shift to focus on a built-in and integrated infotainment experience will begin with the 2024 Chevrolet Blazer EV and apply to other EV launches," GM shared with Gizmodo in an email. "GM will apply this infotainment strategy more broadly to future EVs in subsequent years."
The choice to remove these seemingly ubiquitous features is a bold one coming from GM. According to CNBC, which cited data from Apple, 98% of new cars sold in the U.S. come with CarPlay already installed, while 79% of buyers would only purchase a car if it included the system. Meanwhile, Android says its Auto system is compatible on over 500 car models.
Still, GM doesn't seem to care. Jalopnik previously reported that GM Vice President Scott Miller has stood by the decision. Miller said that the demand for CarPlay isn't a reason for GM to keep including it in their vehicles—he sees it as a sign that people want effective infotainment systems. Naturally, that meant that GM had to build its own.
Update August 11, 12:25 p.m. ET: This article was updated with comment from GM.