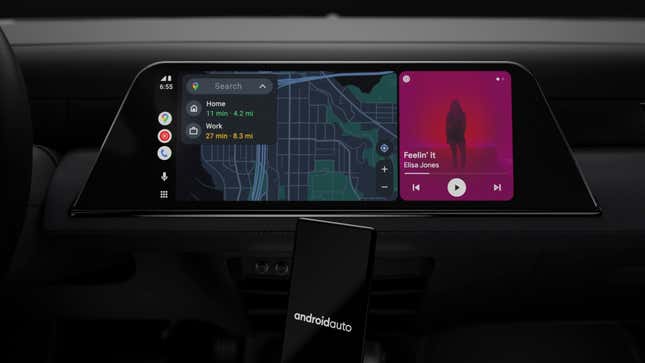 It's time for another Android feature drop—the CES 2023 edition. This time, Google's officially rolling out the new Android Auto interface that we got to preview a few months ago. There are also a few other car-centric announcements within the platform. And Android users can expect a new media handoff feature to launch sometime this year.

Making the Facebook Papers Public
The new Android Auto interface is live beginning today. If you need a refresher, you can read about it in my hands-on experience back in November. I've been test-driving the Android Auto beta in my Subaru Outback and a rental car over the last two months. The experience is overall easier to navigate with one hand. It generally feels more responsive across the board. Google also announced WhatsApp calls through Android Auto if you're using one of the latest Pixel or Samsung smartphones.
Digital car key sharing through Android is also coming to more smartphones. It's already available on the Google Pixel and to share with iPhone users if you drive a compatible car. Samsung and Xiaomi smartphone users will get the ability later this year.
Google also announced new features coming to cars with Google Automotive Services built in—this is different from Android Auto as it doesn't require a tethered device and is integrated directly into the car. Higher quality Google Maps are coming to more cars, starting with the Volvo EX90 and Polestar 3. The new HD maps include lane markers, signs, and road barriers. And if you're bored in the car, YouTube is coming soon to help you pass the time while you wait for takeout.
A new media handoff experience coming to Android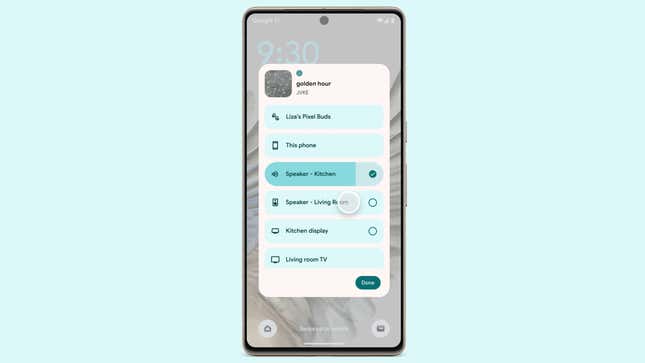 In Android 13, Google introduced a revamped media playback interface. It's a more visually appealing way to choose whether to hear audio through the phone or another connected device. At CES 2023, Google announced it's working with Spotify to integrate Spotify Connect into the mix. You'll be able to switch media playback from within Android's media player rather than having to navigate that within the Spotify app.

Google is also developing a way to figure out where audio content should play as you physically move spaces throughout the day. For instance, if you start a podcast in the car and then park and move into the house, Android will pop up a notification asking if you want to continue playback on your phone or another compatible device in the home. Google says it's working with Spotify and YouTube Music to make these notifications possible. It'll be interesting to see if other third-party apps can take advantage of this, as there are still plenty of folks who aren't using Spotify or YouTube Music as their catch-all media player.
There's no word yet on when these features will be available. Only that Google is currently working on them behind the scenes.