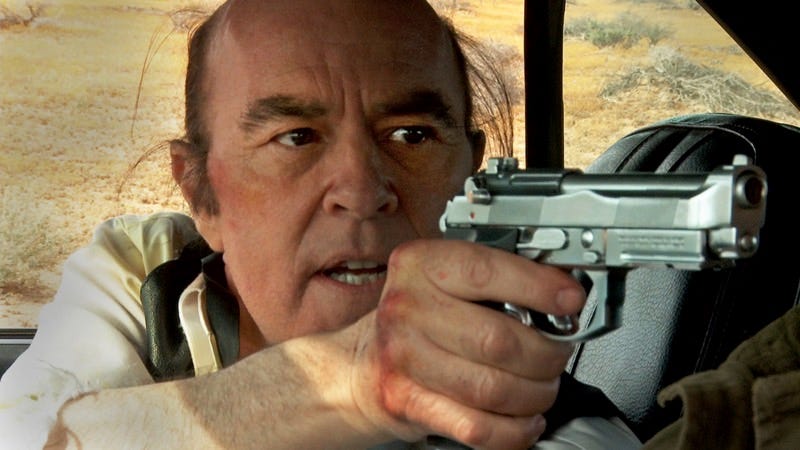 Horror sequel Phantasm: Ravager comes exclusively to Shudder today, and we've got a fun clip which proves that while time may have taken a certain toll on unlikely hero Reggie, he has lost none of the badass spirit that's allowed him to battle the Tall Man for four decades.
Excellent news, Phantasm fans. The cult classic horror series is capping its recent resurgence—which saw a remastered version of the original, as well as the series finale Phantasm: Ravager, hitting theaters in late 2016—with a six-disc Blu-ray set. That's all five films, plus a whole disc of special features.

This is the most obviously amazing horror-object-to-holiday-ornament translation ever: the Phantasm sphere, rendered in festive, accurately gleaming silver. It'll blend right into your Christmas tree—until you need a weapon on the fly to take down any BOYYYYY who tries to interfere with your nefarious plans.

It's a big week for fans of Don Coscarelli's cult horror series, Phantasm, which began with the original film in 1979. That spooky, surreal tale of the Tall Man—cinema's most sinister undertaker—just got a stunning restoration, thanks to mega-fan J.J. Abrams. And the fifth film, Phantasm: Ravager, also arrives to wrap…
The fifth Phantasm film, Phantasm: Ravager, just screened at Fantastic Fest—but for all the cult fans who couldn't be in Texas, we've got an exclusive behind-the-scenes look at the much-anticipated final chapter in Don Coscarelli's horror saga.

We've been hearing about the J.J. Abrams-backed campaign to restore and re-release Don Coscarelli's 1979 cult horror classic Phantasm for awhile—and our excitement ramped up when it screened at South By Southwest earlier this year. Now, we know when it'll be coming to theaters, and when the latest entry in the series…
John Dies At The End has a relatively tiny budget, but it's still one of the year's most anticipated movies. The novel it's based on, by Cracked's David Wong, was a huge Internet sensation, and we've been starved for truly oddball, universe-melting comic weirdness at the movies lately. So how does the movie of John…
We want our horror cheap, dirty and with lots of blood. So we rounded up all the best places to get your horror fix for free for the Halloweenie season while you may be jonesing for a little carnage. You want some free MST3K, you got it; John Carpenter's The Thing, wait no more; Phantasm, go for it. Plus much more!…
Phantasm is a classic horror/scifi B-movie from the late 1970s whose surreal grossout scenes influenced a whole generation of moviemakers. In this clip, you can see why Phantasm is much more than just a standard schlocker, and it all has to do with visuals. We begin with possibly the most famous scene in the film,…