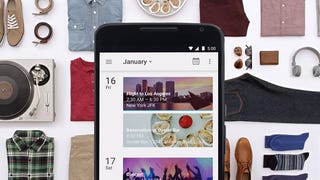 As you make your way around the world or simply across the country, you may want your calendar appointments to shift to match your current time zone, or you might need them to stay fixed no matter where you are—fortunately Google Calendar lets you switch between both options if you delve into the settings for its…
Time zones can be confusing things. But this map, which looks like it could be a piece of modern art, strips them back to their essence: this is how the world looks if the only thing you can see is the time zone boundaries.
Right around this time every year, the world starts to make sense. It gets darker earlier and I get tired earlier, which means I get a better night of sleep. It turns out that I'm not just imagining things. When we go to bed is still determined by that impending darkness, even if our time zone tells us something…
Time zones are strange old things, especially the way they prescribe one time to thousands of miles of land mass—so this visualization shows which parts of the world experience unusually early and late hours of daylight as a result.
If your economy isn't doing so well, just jump into another time zone. This is the strategy pursued by Samoa, for example, which rather dramatically leapt across the International Date Line back in 2011 in order to align its work-week more closely with its Pacific neighbors; and a more local version of this might be…
Pretty trippy, right? Given that Antarctica rests on every line of longitude, you might be tempted to think the continent observes every single time zone, but this is not the case. In fact, as the maps featured here illustrate, even regions that lie along the same meridian don't necessarily observe the same time…
In case you had any lingering doubts, here is some masterful cosmological/geological/geometrical instruction on our planet and its spherical — but not perfectly spherical — tendencies, courtesy of the ever-capable Henry Reich (better known as the creator, animator and narrator of MinutePhysics). Some great, if not…
So, what if you don't live in the same time zone as New York, LA, Tokyo, Paris or London? Well, that means this Diesel Timepiece would be nothing more to you than a gaudy way to buff up your watch arm. Fortunately, a thinner, daintier version exists for those wishing to forgo the pre-ordained cities for five choices…

The World Time Clock by Charlotte Van Der Waals is a deceptively simple idea that accomplishes its task with style and grace. There's an unnumbered clock face on the side of this 12-sided cylinder, and you simply roll the clock over until the time zone you're looking for is on top. The names of two cities are…