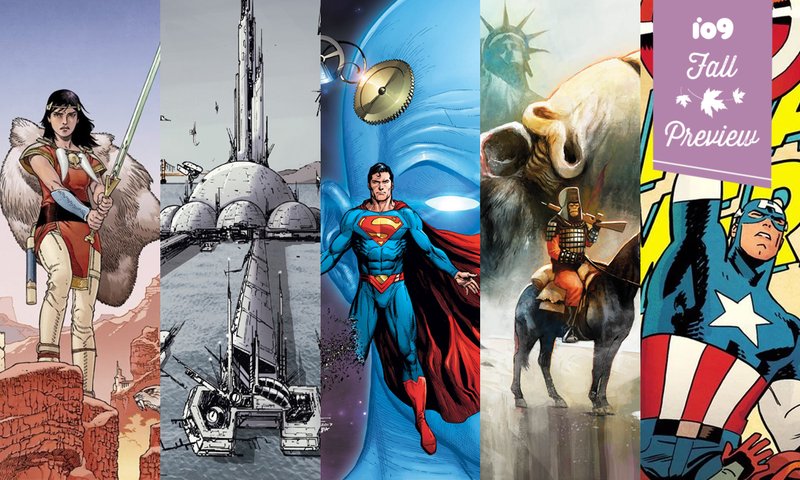 Let's be real: Comics are kind of a year-round thing. But you know what fall has that the rest of those lousy seasons don't? Perfect comic book reading weather. So it's a good thing that there's tons of new comics on the way! Here's our picks of the wonderful new books you'll want to get cozy with in the coming months.

There's nothing like reading a good comic or 16 on a warm summer's day. I mean, why do all that stuff like going outside when there are so many good new comics series coming out? Beat the heat over the summer with a few of our recommendations for all the new series you should check out in the next few months.

Death of Stalin, the French graphic novel detailing two days of chaos between Joseph Stalin's stroke and the announcement of his death, will get a new reprint ahead of the upcoming film adaptation. Perfect timing too, because (for some weird reason) we should remind ourselves what actual totalitarian governments are…
Titan Comics is adding another Games Workshop tabletop game to its comic book roster—and this one is somehow even weirder and crazier than even the grim dark future of their Warhammer 40,000 comics. Yes, brutal world of (extremely) fantasy contact sports that is Blood Bowl is getting its own comic series.

Four years ago, the first episode of the BBC's modernized Sherlock series was adapted into a manga in Japan. Now, all these years later, it's finally being officially translated for Western audiences. Behold, the exotic cheekbones of Benedict Cumberbatch, in two dimensions!
In the grim darkness of the far future, there is only war... and comic books, apparently. Yes, Warhammer, Games Workshop's ludicrously over the top tabletop game, is one of the wackiest, macho universes in science fiction—and after a long hiatus from comics, the series is getting a new swath of books from Titan Comics.

In kind of a flip-flop of how these things usually unfold, Showtime's Victorian England-set horror drama Penny Dreadful—which will unveil its third season in 2016—will jump from the screen to the page, courtesy of a Titan Comics series penned by the series' scriptwriters.

When Doctor Who brought past Doctors together for its 50th Anniversary special, it wasn't just to look back at the show's past, but to examine the Doctor's own insecurities. The Four Doctors, the Titan Comics miniseries that concluded last week, finally does that for Peter Capaldi's Doctor—and it makes for the best …