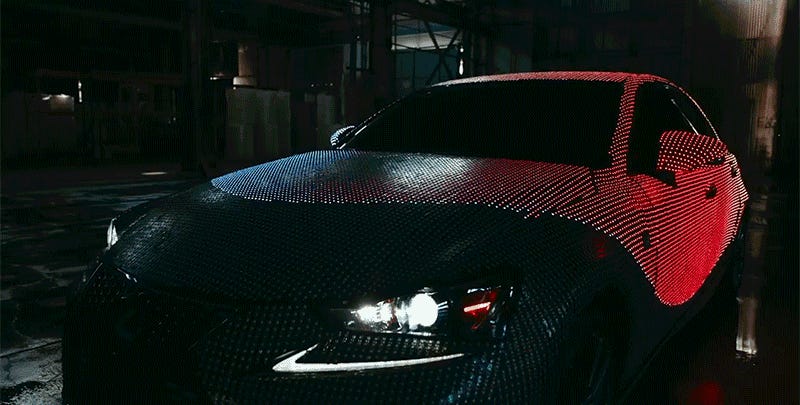 Can't decide what color Lexus to get? With the company's one-of-a-kind LIT IS sedan, you can choose a different color, design, and even animation every morning as you head off to work. Instead of paint, the vehicle is covered in 41,999 programmable LEDs turning it into a giant, rolling display.
Reports from both Fortune and The Guardian indicate that Google is planning to start a subscription music service like Spotify soon. But the craziest little nugget buried in the reports: YouTube might be getting an ad-free option. Imagine no more Vevo ads. Hello, holy grail.
The online music video service Vevo has responded to reports that it aired an illegally streamed football game at Sundance. While the company admits that the illegal streaming and broadcast did happen, they're denying responsibility.
I love double standards, especially when they're exhibited by large corporations. Just like Vevo, a joint venture between some of the biggest record labels in the world, streaming a pirated NFL playoff game at one of its events.
YouTube is big fat no fun having missy when it comes to copyright rules. They're so afraid of pissing somebody off (and getting a lawsuit) that they'll even pull official videos now. Like today, when a prankster submitted a copyright claim against Justin Bieber's Vevo and YouTube took down his page.
YouTube's got millions of songs on its servers, and now, thanks to Vevo, a hefty slice of them are totally aboveboard. In DIsco, YouTube's built an official, media-player-like front-end for all this music, with a Pandora-like discovery tool.
YouTube and Universal have teamed up to create VEVO, a site which will host music videos with the blessings of various recording companies. The site is launching tonight and so far the details sound pretty great.