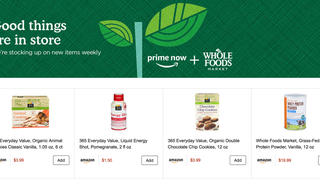 The $13.7 billion purchase of Whole Foods only received a green light on Wednesday, but the company has already announced that the deal will be done on Monday, August 28th. In a PR statement that will inspire lovers of $6 asparagus water, Amazon says that it will immediately drop the notoriously high prices at the…
The Federal Trade Commission, the US government body in charge of consumer protection and investigating anti-competitive marketplace practices, has announced that it will not stand in the way of Amazon's plan to merge with Whole Foods.

"Goldman Sachs owns him, he will do anything they demand," Donald Trump tweeted last year. He was referring to his opponent Ted Cruz. But now he's president and he has assembled the richest Cabinet in history. That fact bodes very well for Amazon CEO Jeff Bezos and his plans to take over the world.
Amazon is perfecting a different kind of business model than we've traditionally known. First, crush an industry by focusing on growth instead of profit. Then, swoop in to "fix" the industry that was destroyed. Now that the online retailer is moving into the brick and mortar world, it's trying to prevent the in-store…
Most dealerships simply consist of a huge lot, a showroom, repair bays and a bunch of offices. They're boring. But what if we switched it up and put vendors inside them, kind of like Whole Foods is doing with its new Millennial-focused stores? Here are some shops that should be in car dealerships.

33⅓ rpm records have been around for 65 years and in that time they've come and gone. And come back again. Apparently the nation's few remaining record stores, stamped out by lack of demand, are suddenly not enough, so Whole Foods has begun selling vinyl at five locations in and around LA, including West Hollywood,…