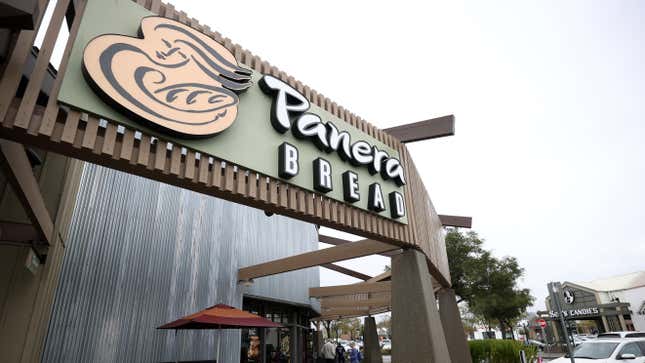 Panera Bread isn't telling its legion of customers to shove their hand directly into their broccoli and cheese bread bowl, but a few Missouri franchisees are letting their customers know they can throw their palm onto the kiosk to pay for their meal. It's not the first time Amazon's palm-reading payment tech has been seen outside an Amazon-owned business, though it shows the biometric scanners may be even more prevalent in the near future.
Uh Oh, Amazon Bought Your Favorite Robot Company
On Wednesday, Panera Bread announced it was deploying the Amazon One palm payment system to two of its shops in the company's hometown of St. Louis, Missouri. The company said it plans to add even more to its restaurants in the coming months. First time Amazon One users can pre-enroll online or sign up while placing their order.
Customers have to link their MyPanera account to their Amazon One profile in order to make use of the biometric scanners. The self-styled "bakery-café" fast casual chain said scanning in before payment will allow Panera workers to greet customers "by name" and ask if they'd like their usual order. It's a little too dystopian for my blood, and I wouldn't want any random Panera employee knowing how many carbs I prefer when I eat out. On the other hand, Panera CEO Niren Chaudhary called this a way to "deepen our relationship with our loyal customers."
Of course, it's currently opt-in only, and customers don't have to swipe in when they go to order. Amazon maintains its keeping customer's biometric data secure and encrypted and has previously claimed it doesn't store purchase information and only collects minimal data on where users shop. The company has said customers can delete their biometric data through the Amazon One portal.
However, now it's clear that the Amazon partners themselves don't have to necessarily abide by that same arrangement. Panera Bread said in its press release it knows what your typical purchase is. Furthermore, it wants to have employees offer you "recommendations" based on your profile.
The Amazon One palm recognition service is just another biometric system akin to fingerprint or face scanning technology, though it instead acts like a mall psychic doing $10 palm readings, using the shape and lines of a person's palm. The scanners have appeared in a New York City Starbucks showcasing Amazon's "Just Walk Out" technology. They've also been spreading out at sports stadiums like Seattle's Climate Pledge Arena and other sports venues around the city, according to Forbes.
Amazon first showed off its palm-reading shopping tech back in 2020, and has deployed the contact payment system into several Amazon Go locations, its newfangled physical clothing shop in Glendale, California, as well as a growing number of Amazon-owned Whole Foods stores.