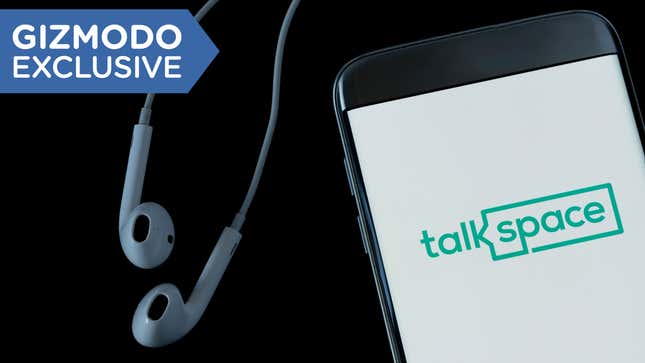 If you walk into a brick and mortar therapist's office, a receptionist will tell you if there's no availability. It's probably a safe assumption they won't charge you for the therapy sessions they aren't giving you, either. Allegedly, neither of those things are true on Talkspace, a popular mental health app that connects users with therapists for text and video chats.
Mental Health Apps Are a Privacy Nightmare
A class-action lawsuit filed in California federal court against Talkspace Wednesday accuses the company of lying about whether it has enough therapists to meet prospective patients' needs and of secretly enrolling those patients in automatically renewing payments, regardless of its therapists' availability. According to the complaint, Talkspace bills patients when appropriate therapists aren't available or even when patients haven't booked any appointments at all.
"Talkspace is acting exactly how you would expect a Silicon Valley tech company to act," said Ari Scharg, a partner at the law firm Edelson PC and one of the lead attorneys on the case. "But this isn't ride sharing or food delivery, this is mental health. Being scammed by your therapist's office could lead to disastrous consequences."
The company said it's in the process of reviewing the lawsuit's claims. "Our top priority is to make high-quality mental health care as convenient and accessible as possible to our members," said a Talkspace spokesperson. "We maintain a network of thousands of providers licensed across all 50 states, averaging 9 years of experience, and provide them with continual support and quality oversight. Our billing process is made very clear at checkout, which we pride ourselves on."

Talkspace is one of the best-known mental health apps in the country, with nationwide ad campaigns featuring celebrities like Michael Phelps and Demi Lovato singing the company's praises. The company promises to "match you with a dedicated provider who will meet your specific needs," and advertises that matches typically happens "within 48 hours."
California resident Naomi Weizman, the plaintiff in the lawsuit, didn't have that experience. According to her complaint, when she signed up for Talkspace last year, the company matched Weizman with therapists she didn't feel comfortable with. The app then took weeks to match her with a new provider, she says. Later, Weizman was surprised to learn that Talkspace was charging her during that interim period because, she alleges, it had signed her up for a subscription without her permission.

According to her complaint, it was impossible for Weizman to get therapy after breaking from her first therapists because Talkspace had not assigned her another one, so she could not book any appointments. When she asked the company for a refund, Talkspace refused, the suit states.
It seems Weizman is not alone. Social media, app stores, and Better Business Bureau reviews are full of complaints from people with similar experiences
Do you work at Talkspace? Are you a therapist who's had a bad experience with the mental health app industry, or a user with a story to share? Contact Thomas Germain at tgermain@gizmodo.com, or securely on Signal at (323)-639-0429‬.

"When I asked for a refund, after receiving not one therapy session, they actually charged me for the week they spent wasting my time," one person wrote in a Better Business Bureau complaint cited in the lawsuit. "My husband and I never received a single therapy session after multiple attempts to schedule. We were double charged $872 and only received $572 back," reads another review. "Talkspace managed to unite us on one thing, that we were fools for trying this."
A Talkspace spokesperson said the company has a "simple cancellation process," and it works with users "to offer a prorated refund for unused time."
The lawsuit says that the design and language Talkspace uses during the checkout process tricks users into signing up for recurring payments. The app makes one vague reference to "subscribing" in grayed-out text early in the sign-up process, but there's no reference to recurring payments on the checkout page. According to Scharg, that violates several state consumer protection laws, including California's Unfair Competition Law and the Delaware Consumer Fraud Act.
"People don't know that they're signing up for a renewing subscription," Scharg said. "That's apparent from the thousands of complaints about Talkspace on the internet and all over social media, and from all the patients and former patients I've spoken to."

When you set up an account on Talkspace, you fill out a questionnaire about needs and preferences. You can say you need someone who specializes in substance abuse, for example, or that you want a therapist of a particular gender. Talkspace ignores those preferences entirely and matches patients solely based on providers' availability because it doesn't have nearly enough therapists to meet demand, according to the lawsuit. The company sends you three "personalized matches." The lawsuit says automatic payments start before a user can review their matches.
"Most of the patients I've spoken to talk about how difficult it is to get matched with a therapist they feel comfortable with," Scharg said, "and when they don't click with the initial therapist that was assigned, it can take weeks and weeks to get reassigned to someone else."
Reviews of the app suggest that some of the therapists it matches people with often don't even have availability for weeks or months. Some report that therapists who are listed as available barely respond, despite Talkspace's promises of 24/7 care. Talkspace tells prospective patients, "you will not be charged until you're matched with a provider," but during the signup process, the site refers to its prices as the "total due on match." According to Weizman's suit, the payments start immediately.

This isn't the first controversy surrounding the mental health app. Privacy snafus at Talkspace and other mental health apps have repeatedly made the news over the past few years. One therapist told the New York Times that Talkspace reprimanded them for recommending outside resources in a supposedly confidential chat with a patient. Employees said the company mined private user chats for phrases it could use in marketing campaigns. Still others said Talkspace asked them to give the app fake positive reviews, providing burner phones and pre-made email addresses for app store logins. The company denies these allegations.

The consequences for bad practices on a mental health app could be far more serious than misbehavior in another part of the tech industry. Mental health apps can open up a new opportunity for care because they can lower the stigma associated with getting help. "Most of the people that I talked to were seeking mental health care for the first time in their lives through the Talkspace app," Scharg said. But if people's only experience with the mental health industry is sour, they may turn away from professional help forever.
Update: 03/02/2023, 8:16 a.m. ET: This story has been updated with a comment from Talkspace.