First, Taylor Swift and her managementpulled the singer's music from Spotify over claims of paltry royalty payments. Then Spotifystruck back, explaining its royalty pay outs were actually quite large. Now, Swift is questioning Spotify's numbers.
Spotify explained that it handed out $1 billion in royalties to labels in 2014 alone, with Swift on track to bag $6 million from the service for the next 12 months (should her label keep its fingers out of her takings). Now, in round three of the battle over the value of streaming services, Scott Borchetta (CEO of Big Machine, Swift's label) claims Swift didn't even make $500,000 from domestic streams of her music in the past 12 months.
Borchetta's figures ignore international takings, but with the US Swift's biggest market, it throws into question Spotify's numbers. While $500,000 sounds like a lot—and would be quite the haul for many of Spotify's smaller artists—Swift is one of the biggest pop stars of our time, with her latest 1989 album enjoying the largest sales week of any record since 2002. And it is certainly no $6 million.
Of course, this is all bigger than the Swift vs. Spotify debacle. Whether it's labels lining their own pockets within the brave new world of streaming services, or streaming values not yet capable of matching either download or physical sales' worth, one thing is for certain: being a musician these days means facing up to the fact that it may not pay in quite the same way. At least for now. [Time]
G/O Media may get a commission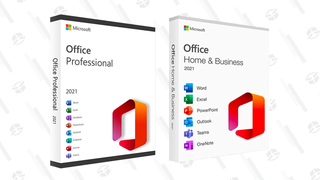 89% off
Microsoft Office Professional 2021 Lifetime License
---
This post originally appeared on Gizmodo UK, which is gobbling up the news in a different timezone.