Musical.ly, the video app popular with teenagers, was acquired in November by Chinese news aggregation giant TouTiao for a whopping sum in the ballpark of $800 million. What does TouTiao plan to do with its expensive purchase? According to a planning document provided to Gizmodo, one of Musical.ly's initiatives under new management may be a riff on HQ Trivia, codenamed Project F.

Currently Musical.ly allows its users to upload short, Vine-like "video selfies" and lip sync to popular songs using the app's library of licensed music. The purpose of Project F, as the company writes, is to make its video platform stickier than it currently is. "While we have acquired and retained 60 million [monthly active users]," it states, "there are certain characteristics of our brand, app, user profile, and historical context experience that have prevented Musical.ly from becoming an exciting daily destination." Those numbers must look especially weak by comparison to its new parent TouTiao, whose 120 million daily readers spend enough time on the news-aggregator to make Facebook envious.
Live, interactive video content—if HQ's audience, which regularly peaks at over 1 million for a single game, is any indication—might cure what ails Musical.ly. As internally described, Project F would replicate almost all the core features of HQ Trivia wholesale: a twice per day vertical video, semi-improvisational script delivered by a personable host, and the ability to win money or prizes. While Musical.ly would be far from the first company cashing in on HQ's success—copycat The Q comes to mind—it would be the first attempting to foist the format onto an existing, sizable audience.
Amid the Project F roadmap are a few concepts to potentially innovate on top of the HQ formula. Batted around in the document are ideas like team-based play and a more forgiving difficulty level. "Unlike competitive versions of this experience, even players who do not reach the end of the game could still win prize money," the plan proposes.
Musical.ly has reportedly struggled with advertising on its platform, due to unusually high rates and perhaps a core audience which is too young to have disposable income. While little is known about HQ Trivia's revenue model, or if it generates revenue at all, Project F might also be an indirect play to capture a slightly older demographic that could begin to position Musical.ly towards users with spending power.
G/O Media may get a commission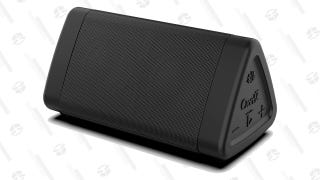 Save 31%
Oontz Angle 3 Portable Bluetooth Speaker
This planning document only describes the broad strokes of Project F. It's unclear if the game show will first be launched outside the US, if it will be directly tied to Musical.ly or launch as its own app, if its name has been finalized yet, how many hosts will be attached to the show, or even if Project F will ultimately be released to the public. We've reached out to Musical.ly for clarification and will update this story when we receive a reply.
The most recent schedule reviewed by Gizmodo estimated Project F will launch on February 2nd.