Are organized sports the reason for a disappointing opening for Terminator Salvation? Warner Bros. are suggesting that may be the case following the news that it'll gross less than T3 in its first weekend.
As we suggested yesterday, Night At The Museum 2 has beaten Terminator Salvation to take the crown of the Memorial Day weekend box office; final estimates show Ben Stiller's reanimated comedy making $53.5 million in the Friday-Sunday period, while Salvation trails behind with $43.0 million. Worryingly for McG and Christian Bale, this ends up being a million dollars less than the opening weekend for Terminator 3: Rise Of The Machines, even before you adjust for inflation in ticket sales, and things only look worse for the new movie when you do the math. Box Office Mojo has pointed out that both T2 and T3 sold more tickets than the current movie, and added:
Based on the patterns of past Memorial debuts, the highest that Terminator can climb is around $57 million for the four-day weekend, which would give it more than $70 million in five days. Unadjusted, Terminator 3 made $72.4 million in its first five and a half days.
So why the disappointing turnout (For some sense of comparison, Star Trek had an opening weekend of around $75 million)? Warner Bros are suggesting that the movie's narrow target demographic was hurt by what else was happening this weekend:
Time Warner Inc (TWX.N)-owned Warner Bros. said "Terminator" was likely more affected by competition for older men from the National Basketball Association playoffs, which hurt business in cities like Los Angeles.
G/O Media may get a commission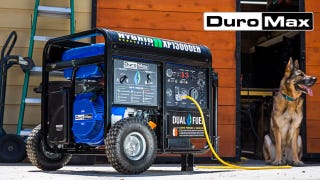 Black Friday Sale
DuroMax Generator Sale
Alternatively, the bad reviews may have taken their toll. Or, just maybe - as blasphemous as this may sound - mainstream audiences just aren't that interested in dystopian machine-controlled future war right now.