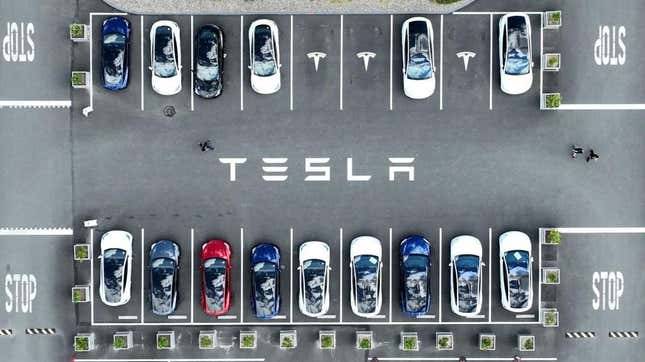 A Tesla deal may come to fruition for its facility in Nevada on Thursday, which may allocate more than $300 million in tax abatements to the company. The Nevada Governor's Office of Economic Development will hold a vote on Thursday to decide whether the company will receive the sum over the course of two decades.
Tesla Investors Not Happy With Mr. Tweet's Tweets
The conversation was brought to the table in light of Tesla's $3.6 billion factory expansion in Nevada but was kept quiet because of a nondisclosure agreement between the company and state officials. According to Tesla's application, approval of the tax abatement will allow the company to bring in roughly 3,000 jobs offering an average rate of $33.49 per hour while covering health insurance for 91% of employees.
The facility expansion will reportedly occur at the Tahoe Reno Industrial Center and according to AP News, Tesla CEO Elon Musk claims he has plans to produce an influx of semi-trucks and produce enough cell batteries to be able to power two million light-duty vehicles each year in Nevada.
According to the AP, Tesla signed a deal with Nevada as it first broke ground on the facility back in 2014. When you combine both its 2014 investment and project expansion where the automaker received over $1 billion in tax breaks, Tesla's is poised for more than $10 billion in capital investments between 2014 and 2028.
"The tax breaks for the first phase will phase out next year in 2024," Mike Kazmierski, president of the Economic Development Authority of Western Nevada told ABC8 News earlier this month. "And when that happens all the revenue from that manufacturing equipment tax will go right into our economy. We are one of only eight states in the nation that taxes manufacturing equipment and that was the bulk of the abatements afforded to Tesla nine years ago."
Ahead of Thursday's board meeting, Nevada's Democratic-controlled legislature requested a delayed vote to allow the public to have more time to express their opinions on the matter, but as of Monday, the vote will continue as scheduled.
Storey County commissioners, where Tesla's factory is based, requested in a letter to Gov. Joe Lombardo (R-NV) and economic development board director Tom Burns that county officials attend and participate in Thursday's meeting, AP News reported. Regardless of whether officials attend, the commissioners wrote, "Storey County is poised to accept and respond to the needs of a second Gigafactory and continue its positive working relationship with the Tesla team."