Two years ago, Elon Musk promised the world that Tesla would produce solar panels virtually indistinguishable from roof tiles. But his solar factory isn't producing panels that are to his liking yet, and that's leading to some major production issues, according to a report from Reuters.

Tesla teamed up with Panasonic to produce the photovoltaic cells and solar panels at Gigafactory 2, the factory that Tesla took on when it acquired SolarCity in 2016. But current and former employees of Tesla and Panasonic told Reuters that the solar factory was hitting production snags because of "assembly-line problems" and difficulties meeting CEO Elon Musk's aesthetic desires.
"Aesthetic look is the key point that Elon is always not satisfied with," one unnamed former Tesla employee in California told Reuters. "That's the big issue."
The look of the tiles is integral to Musk's plan to make solar power sexier and more popular. "The key is to make solar look good," Musk said when he debuted the solar shingles in October 2016, "We want you to call your neighbors over and say, 'Check out this sweet roof.'"
But that drive for attractive panels could potentially be souring relations with Tesla's partner. Reuters reports that a former Panasonic employee, a current Panasonic employee, and a former Tesla employee said Panasonic has had to find other buyers for parts that the company built for Tesla.
G/O Media may get a commission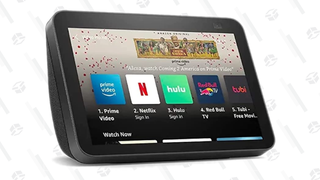 Musk told investors in a call last week that hundreds of homes had Tesla solar panels on their roof. But in a statement to Reuters, Tesla explained that its estimate included roof installments that were scheduled and solar roofs that had been partially installed.
"We are steadily ramping Solar Roof production at Gigafactory 2 in Buffalo and are also continuing to iterate on the product design and production process, learning from our early factory production and field installation," a Tesla spokesperson told Gizmodo in a statement. "We plan to ramp production more toward the end of 2018 and are working hard to simplify the production and installation process before deploying significant capital into factory automation."
Panasonic did not immediately respond to a Gizmodo request for comment. Panasonic told Reuters in a statement that it believes "Tesla will use Panasonic cells when it mass-markets the Solar Roof."
The Reuters report also highlights concerns from state lawmakers. New York gave Tesla $750 million for the solar operation, according to SEC filings. In exchange, Tesla is required to spend $5 billion in New York over ten years and employ 1,460 people in Buffalo within two years of plant's completion. New York's economic development agency Empire State Development told Reuters it "believes Tesla is currently meeting its obligations," but noted that the company would be fined $41.2 million in yearly penalties if it fails.
New York state Assemblyman Ray Walter toured the plant in March and told Reuters, "After investing $750 million of taxpayer money, we want it to work out... It just does not look like it's heading down that path."

But Tesla told Gizmodo things are getting better. "We are working hard to make beneficial use of the State's investment, and we continue to meet our hiring goals in line with our agreements with the State and Buffalo," a spokesperson said.
[Reuters]