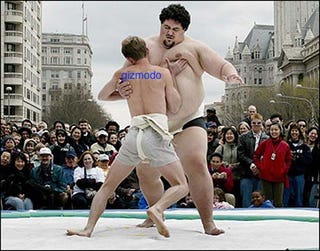 Some of you guys love reading Giz as much as we love writing it. But sometimes, that ain't enough to fight off the haters. After the dust settled on the Internort, we ended up scoring as runner ups for the weblog tech awards. Congratulations to Ryan Block and Engadget, our rivals, who are doing a good job over there.
Having said that, I'm proud of what we've done in the last six months, too. We were the first to give you obsessively in depth reports on the Zune, PS3, Wii, including the first dual unboxings and unpantsings. Our photos are beautiful, and although our grammar and spelling suck, well, Firefox 2.0 has that spellchecker built in, so we should be ok with at least 50% of that problem by the next award poll.
Maybe next year, the underdogs will be victorious.


P.S. Speaking of underdogs, that skinny guy in the photo is friend Josh Davis, and thats really him sumo wrestling in the US open.