Hey, who remembers Aqua? And now, who remembers anything about Aqua that isn't about how they got sued by Mattel for the song "Barbie Girl?" Because they also did a song that mentioned Indiana Jones. It is very bad and also very amazing.

"Dr. Jones" is the fifth track on Aqua's seminal 1997 album Aquarium. It is a riddle wrapped in a mystery inside an enigma. The title feels like it should be a reference to the character of Indiana Jones, but the song's about romance. Generally speaking, the lyrics are generic, all about summer love. The only part that references the dude in the title is the chorus, which I will admit is lyrical brilliance:
Doctor Jones, Jones, calling Doctor Jones

Doctor Jones, Doctor Jones, get up now (Wake up now)

Doctor Jones, Jones, calling Doctor Jones

Doctor Jones, Doctor Jones, wake up now (Wake up now)
Did Indiana have a problem waking up in the movies and I forgot about it? Please help me understand.
But nothing makes less sense in context than this part of the song:
Please, please cure me

Please, please cure me

Please, please cure me

Please, please cure me
He's not that kind of doctor. He is singularly bad at curing people. Hell, he's bad at the thing his doctorate is actually in. If you need someone to steal artifacts before the Nazis get them, then do call him. (Assuming you can get him to wake up.)
G/O Media may get a commission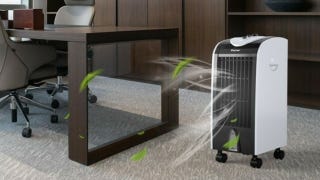 Save $10
Evaporative Portable Air Conditioner Cooler with Filter Knob
Also, and I feel like I shouldn't have to say this, but if you're referring to your lover by his title—and not in like a sexy kinky way—something's probably not working.
Nothing else in this song is an explicit reference to anything Indiana Jones-like. And the music video? Well, this is the somewhat like the classic Indiana Jones font:
But other than that, nothing in this video actually seems Indiana Jones like either. From screwing up Indiana Jones' very famous (very normal) hat...
...to flirting in Morse code...
...to WHATEVER THE HELL IS GOING ON WITH THESE FRENCH-SPEAKING CANNIBALS.
(Actually, yeah, being kind of insensitive to other cultures is pretty Indiana Jones-like. The French part is still confusing, though.)

Nothing about any of this makes any sense, and it is somehow all the more delightful for it, especially because of the truly amazing acting on display in the video. It's campy and weird and doesn't make a lick of sense. Enjoy.