Another year, another couple thousand new apps for you to wade through in a befuddled haze. Which ones should you download? Which ones should you actually pay for? And which ones deserve to take up prime real estate on your home screen? Whether you've spent the last 365 days asking yourself those very questions, or need a refresher on which apps from the last year deserve a second look, we've got you covered. Without further ado—our 20 favorite new apps from 2015:
Layout
Before Layout, you had to search through the app store for something to help stitch your photos into a collage that was then sharable to Instagram (Pixlr was often my choice). But Instagram finally came to its senses and created an app to make collages less of a nightmare. You can move frames with a simple click and drag, and move photos around so you get the exact collection of shots you want. The app then serves up sharing options direct to Instagram, Facebook, and pretty much anywhere else you can think of.
---
Outlook
Outlook needed an upgrade for a long, long time, and Microsoft finally delivered by buying one of the best email clients out there, Acompli, and bringing all its features and design to Outlook. It's arguably one of the best Gmail clients for iOS (yes, it's better than Gmail's) and Microsoft plans to further integrate Sunrise, an amazing calendar app, directly into Outlook. In 2016, the app could become the go-to choice for keeping your email organized.
---
G/O Media may get a commission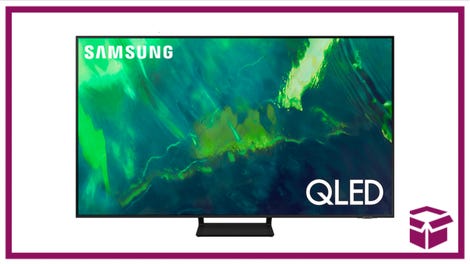 35% off
Samsung Q70A QLED 4K TV
Save big with this Samsung sale
If you're ready to drop some cash on a TV, now's a great time to do it. You can score the 75-inch Samsung Q70A QLED 4K TV for a whopping $800 off. That knocks the price down to $1,500 from $2,300, which is 35% off. This is a lot of TV for the money, and it also happens to be one of the best 4K TVs you can buy right now, according to Gizmodo.
Periscope
Periscope is arguably the heaviest hitter on this list. The app launched in March, and with the support of Twitter, quickly became the No. 1 livestreaming app out there. It's been adopted widely by individual users and media outlets to offer instantaneous coverage from a smartphone to the rest of the world. Other competitors, like YouTube Live and Meerkat, offer intriguing alternatives. But Periscope, with its straightforward interface and growing community, is probably the most successful app of the year.
---
Apple Music
Apple Music didn't exactly set the music streaming world on fire, but it created one hell of an app and made up for years of lost time. It also introduced Beats 1, a delightfully old school way of discovering music in a sort of FM Radio/podcast hybrid. Apple Music also has deep integration into the iTunes Store, so if you already have an impressive library of paid tunes, Apple Music plays along nicely. Perhaps the most shocking development with Apple Music is that it's also available on Android. So everybody wins (except Apple designers).
[Free w/ $10/mo subscription - iOS and Android]
---
VHS Camcorder
This is one of those beautiful, simple apps that doesn't need much describing. It makes video on your phone look like it was shot on some shitty camcorders from the 80s. Revolutionary? NOPE. But fun (and kinda brilliant) nonetheless.
[$4 - iOS]
---
Cortana
Wait, what? Yes, it's true that Cortana's been around forever. But Microsoft took some big steps this year with its digital assistant, and Cortana is now platform agnostic. So if you happen to like Microsoft's take on the mobile digital assistant, you can have it on your iPhone or Android as well. The latter comes with a few more features than iOS, like linking reminders across your PC and phone, though they all pale in comparison to Windows phone (Microsoft still wants to sell those Lumias...I think). The app is free and worth trying, especially if you've ever considered yourself a Master Chief sort of person.
---
MakerBot PrintShop
Makerbot had a tough 2015. The 3D printing company laid of 20 percent of its staff only to be followed up with laying off another 20 percent of its staff. But in the meantime, it was able to put together this app, which is one of the coolest ideas we've seen. It's called PrintShop, and essentially it can turn any drawing into a 3D print—no CAD experience required. Printer manufacturers need to bridge the gap usability gap between artisan and layperson. PrintShow is that firststep. Now it just needs to be available on iPhone and Android and also play nice with other kinds of 3D printers out there.
[Free - iOS (iPad)]
---
Google Photos
Google's always had a Photos app, but the overhaul it launched in 2015 deserves to be on this list. The Google Photos app went from a nice little app that wasn't incredibly useful to something that was mind-bogglingly good. So good that it kind of scared us when we first used it. Google Photos is super simple to use and the best way to keep track of all your photos, especially if you're prone to using several different mobile devices. It also has a super smart algorithm to lump photos into the same category for easy search, and will create mini slideshows of certain photos from one day. It's even worth forsaking Apple's stock option to give Google Photos a shot.
---
Star Wars: Card Trader
Topps Star Wars trading card app does for old-school Star Wars cardboard nostalgia what Hearthstone did for card games in the digital age. The app itself is just a simple card-collecting app, except that you can trade with anyone IN THE WORLD. The app has created its own economy of sorts, including what is essentially a JPG of Han Solo that's worth $225 USD. Like the sports-related apps before it—Bunt, Huddle, and Kick—Star Wars: Card Collector doesn't exactly muck with the formula much...other than the fact that it's Star Wars and that's awesome.
[Free w/ in-app purchases - iOS and Android]
---
Darkroom
Filters are an important part of mobile photography. An Instagram without filters is an Instagram that I don't want use at all. But what if your app of choice's filter selection leaves you wanting something more? That's why Darkroom is so great. Aside from being a great photo-editing app in general, it also lets you create filters after every tone or color tweak, so you can build up an impressive collection of hand-crafted filters.
[$3 - iOS]
---
Arrow Launcher
Microsoft's Garage is endlessly pumping out interesting apps across all platforms, but the one that stuck out the most in 2015 was Arrow Launcher. For Android only (obviously), Arrow Launcher wants to put your most used info front and center, so you can get in and out of your phone as fast as possible, with quick access to to-do lists and most used contacts. It might be a hard sell over Google Now or Nova launcher, but Microsoft's launcher is surprisingly good (especially considering they're the competition).
[Free - Android]
---
HBO Now
"It's here. It's finally here" is what I thought when HBO Now was announced during WWDC 2015. As a mobile app, it actually has a little bit to build upon, and doesn't provide all the features of its cable subscriber-only app HBO Go. But cable-free HBO is the best thing that's happened to video streaming apps for awhile. Hopefully, the app ups its game even further in 2016.
[Free w/ $15/mo fee - iOS and Android]
---
Giphy CAM
Animated pieces of internet gold are Giphy's business—and business is good. That's why they've launched Giphy CAM, a comprehensive app that lets you create and share the perfect GIF right when you need to. You can overlay sunglasses, weird faces, or yes, state-of-the-art junk food special effects. GIFs: They're the way we live now.
[Free - iOS]
---
Drupe
On a given day, I might call, text, FaceTime, WhatsApp, Messenger, and Instagram my best friend. That's a lot of tapping, hunting for the right apps, and navigating their UI, before I can communicate. Drupe does away with all of that by building a super simple contacts app that's much more than a contacts app. It keeps track of your top contacts in one column with popular messaging apps in another. Simply slide the contact icon over the icon of the platform you want to use, and Drupe opens up the right app with the right chat already selected. It's time saving at its finest.
[Free - Android]
---
Eve
Eve, formally known as Ruby, is more than just fun and games or a productivity aide. It's one the best apps for women's sexual health, offering comprehensive and easy-to-use menstruation and ovulation tracking. Eve can also track sexual health by analyzing other data collected from other health and fitness apps you might be using. It even customizes based on the type of contraceptive you're using.
[Free - iOS]
---
Samsung Pay
This is one of the more limited apps on the list. It's currently only available for the Galaxy Note 5, S6, S6 edge, and S6 edge+. The app works with traditional NFC, which payment apps like Apple Pay use, but also magnetic secure transmission (MST) a technology Samsung acquired from LoopPay in February. That means your phone needs to have MST technology for Samsung Pay to work as advertised. MST allows tap-to-pay functionality at terminals that may not have NFC, but do have MST card readers. This makes Samsung Pay the most accessible mobile payments app out there. It doesn't quite annihilate the plastic in our wallets, but it's definitely the app that's come the closest so far.
[Free - Android (Samsung Phones)]
---
DSCO
Sure, Giphy Cam is fine for making GIFs, but if you need something a little less...intense...that's where DSCO comes in.It's from VSCO, creators of VSCO Cam, so the team is comprised of experts in the imaging biz. But what I love most about DSCO is its incredibly simple and streamlined design. Take a video, swipe for filters, share to the internet. Done. It's up against Instagram's own Boomerang app (and its own self-looping features in the main app), but VSCO's first app adventure outside VSCO Cam is one worth investigating.
[Free - iOS]
---
Robinhood
Robinhood technically launched in late 2014, but at that time it was only on a limited invite system. A year later, Robinhood is now publicly available on Android and iOS, and it's one of the more interesting app ideas I've seen in a while. Robinhood tries to take some of the scariness out of stock-trading with a super simple interface and zero commission trading. If you've ever thought about giving stocks a try, Robinhood is a wonderful app that'll help you dip your toe into that big, complicated, intimidating financial world.
---
Enlight
Other than games, photo editors are arguably the app category with the most options out there. Enlight might be the The One App to Rule Them All. The app offers myriad features, including noise reduction, cropping tools, and fixes for tone and color. You can also create collages and slap on a filter before exporting to Instagram. It's a little pricey at $4, but if you're taking more and more mobile photos, and want something a little better than what you're getting out of your lens, Enlight is a worthwhile purchase.
[$4 - iOS]
---
YouTube Gaming
Twitch has been the undisputed game streaming champion for years—and then YouTube Gaming came along. Leveraging its massive influence as an online video juggernaut, YouTube Gaming created an app that's wonderfully designed for a power gamer or just a casual observer. Each game has its own page that's divided into live videos, reviews, and let's plays, and the app has a wealth of games to choose from. For more details, check out Kotaku's hands-on covering YouTube Gaming's many, many merits.