You probably think that Urban Outfitters is for lomography-obsessed, ironic-canvas-bag-toting, paper-thin-dress-wearing hipsters like the ones above. And you're more or less right! But that doesn't mean they don't carry some kickass gadgetry.
Deadly Mississippi Tornado Kills More Than 2 Dozen | Extreme Earth
Urban may have made its name selling ironic t-shirts and counterfeit indie jewelry, but its tech selection of everything from iPod docks to digital cameras is formidable. Indeed, any of the following gadgets would knock the socks off of, well, a pair of novelty socks.
G/O Media may get a commission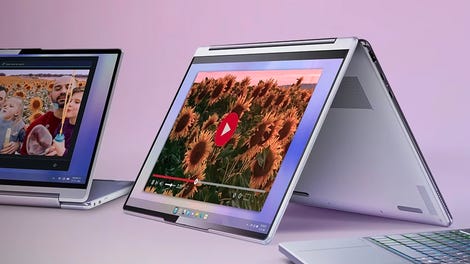 up to 70% off
Lenovo Spring Clearance
Everyone agrees that music is meant to be shared (except the RIAA). But sharing earbuds is decidedly gross, and heaven help you if you subject the subtle instrumentals and harmonies of Fleet Foxes to your smartphone's built-in speakers. The Music Branches headphone splitter makes sharing your tunes as easy as pie and as sweet as ordering said pie a la mode. It even comes with a chain attachment that lets you wear it on a necklace or use it as a keychain so you're always ready for a listening party (of three or fewer). $10
Movember has come and gone once again and with its passing, many a man's upper lip has reverted to its unmanly, uninsulated, hairless state. Although this mustache flask is no aesthetic substitute for well-groomed whiskers, nothing beats a flask full of bourbon when it comes to feeling insulated. It's like a full body mustache on-demand. $18
What is it about wooden gadgets that makes them so damn cool? Whatever it is, this bamboo keyboard has it. Sure it's not the first wooden keyboard, but unlike previous versions, this one has bamboo keys as well. I could mention that bamboo is eco-friendly but really, it would likely be a replacement for a pre-existing plastic keyboard that will end up in a dump. So let's call it a wash on the environmental front and just appreciate its all-natural beauty. $50
No matter how cool your new gadget case is, there's always a fat, ugly catch hiding in the corner: obsolescence. Once the twice-as-thin, larger-screened version of whatever you're toting comes out next year, your $50 case becomes about as useful as last year's holiday dinner leftovers (actually, at least leftovers decompose eventually). Thats why this Pendleton iPad case is actually a great deal. No matter how thin the next iPad is, it will still have the same 9.7 inch screen so you know it will fit. And since it's Pendleton wool, you know it'll outlast even the most futureproof gadget. So long as you're generous with the moth balls when it's not in use. $68 ($29 for the teal)
The latest addition to the lomo family of lo-fi cameras is its first video-capable member, the Lomokino Super 35. The crank-operated blast from the past can squeeze about 50 seconds worth of footage out of a single 36 exposure roll of film. Once developed, your movies can be viewed using the included viewing device or scanned and converted into digital format for global internet audiences with a bit of extra work. It's a lot of effort for not a whole lot of footage but with film, you often don't need more than a single second. $100
I can't comment on the sound quality of this Stereoluxe iPhone speaker, but if it sounds half as good as it looks, consider me sold. The radio dial looks like it was plucked straight out of the dashboard of an Eisenhower-era Cadillac with a paint job to match. If you're in the market for a mid-century styled speaker with modern-day features, this is just the ticket. As an added bonus, Urban Outfitters is the exclusive retailer of this particular dock so unlike everything else they sell, you won't be hit with buyer's remorse when you find it for much cheaper on Amazon. $199