It's a good time to be Adam West. The '60s Batman TV show is returning — kind of — in a new DC comic titled Batman '66, a digital-first comic based entirely on the classic, campy series. We've already mentioned how the cult-classic show will get an awesome and long-awaited action figure series, but hold onto your cowl, because Mattel's Batman '66 SDCC exclusive figure will be of Batman dancing the Batusi.
The comic will be written by Jeff Parker and illustrated by Jonathan Case and is due out this summer, and the toy, which you'll almost certain have to buy on eBay for a small fortune, will obviously be available in July. There are pics of both below, and you can check out more of the comic art over at Comic Book Resources.
But the best news? If Mattel and DC and Warner Bros. have managed to get their shit together to allow a toyline and a comic, I can't imagine the DVDs can be that far behind.
G/O Media may get a commission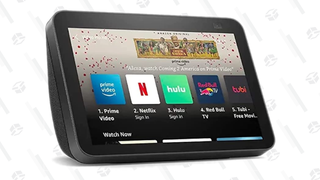 [Via CBR and ToyNewsI]