Buildings are expensive but they're nowhere near as expensive as incompetence, as we learned this week thanks to new revelations about the $4 billion price tag of the World Trade Center transit hub. In the process,we uncovered a list of the most expensive structures ever built—and some of them might surprise you.
The building data website Emporis recently released an updated list of the world's most expensive skyscrapers. But there aren't a ton of surprises on the list—tall buildings cost money. What is interesting, though, is Emporis' list of most expensive modern structures overall. While high costs correspond to high buildings, the reasons why some of these structures cost billions of dollars to built are more complicated.
---
9) Sheraton Huzhou Hot Spring Resort
If you work out the math, each of the 27 floors of this resort in Huzhou, China, would have cost $55 million. The $1.5 billion building, designed by MAD, cost as much as the 163-story Burj Khalifa. The fact that the finished images look like renderings should tell you all you need to know about why the hotel was so costly: The plan's shape made for an incredibly complex structure, not to mention the challenge of building a tower in a lake.
Adam Rifkin/CC
---
8) Burj Khalifa
G/O Media may get a commission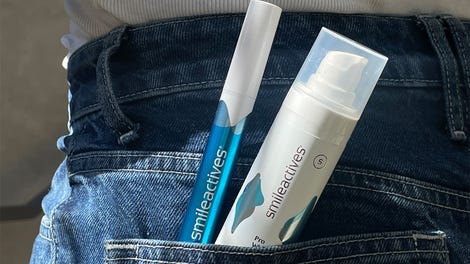 58% off
Whitening Powerhouse Pen & Gel Duo
Again, the Burj is really tied with the Sheraton Huzhou for this spot on the list—but considering that the world's tallest building has 136 floors more than the hotel, it seems fair to list it second. As far as supertall buildings go, the Burj is actually not anywhere near as expensive as it could have been, costing only $1.5 billion. There are two hospitals in Australia that cost more, for god's sake.
Chusico/CC
---
7) Gold Coast University Hospital
With the arrival of modern medical machinery, the cost of building healthcare buildings has skyrocketed—which helps to explain why two of the most expensive buildings, on a list populated by skyscrapers and vanity projects by dictators, are hospitals. The first of the two is Australia's Gold Coast University Hospital, a seven-building complex that cost $1.55 billion.
Simon Morris/CC
---
6) Taipei 101
Though it might already look dated to our eyes, Taipei 101 was really the vanguard of all the supertall skyscrapers we're seeing today. Completed in 2004, the building remained the world's tallest until the Burj Khalifa was finished in 2010. It cost $1.76 billion to build, and its cost can partially be attributed to the immense amount of structure was devoted to making the building earthquake- and typhoon-proof. Near the building's 90th floor, a massive tuned mass damper swings to counteract the motion of the swaying building—it's the world's largest mass damper, and cost $4 million alone.
AP Photo/Chiang Ying-ying

---
5) The Shard
London's $1.9 billion Shard, like the World Trade Center train station, is a megaproject designed by a notable architect—in this case, the brilliant Renzo Piano. But the building's crystalline design wasn't totally responsible for cost—the building is massive, is built with extra structure to ensure its stability during high winds or attacks, and was built in an extraordinarily expensive neighborhood for construction. Unfortunately, it's still trying to find tenants.
---
4) The Palazzo
At 53 stories, the Venetian's Palazzo is far from the tallest building on the list—but what it lacks in height it makes up for in floor area. In fact, the $1.9 billion structure actually knocked the Pentagon out of first place in the rankings of largest American building.
CK Chung/CC
3) Royal Adelaide Hospital
Again, hospitals are notoriously expensive structures to build, with plenty of pricey mechanical and electronic systems involved, but this hospital in South Australia will go far beyond any historical record for cost: At $2.1 billion, it will easily become the most expensive hospital ever built when it's completed next year.
Zaragmata/CC
---
2) Palace of the Parliament
Romanian dictator Nicolae Ceaușescu reportedly directed the architect of his People's Palace to North Korean architecture for inspiration; the lavish structure that resulted is the largest government building in the world, and took 13 years and $3 billion to build—all while Romania suffered through economic turmoil and political upheaval. Rumor has it that the cavernous structure could eventually be turned into a mall.
---
1) One World Trade Center
There's at least one unsurprising building on this list: One World Trade. In a blistering takedown of the building last week, the NYT's Michael Kimmelman says the $3.9 billion structure cost so much because it "required unprecedented fortifications at astronomical costs, on an immensely difficult site."
GiGiNYC/CC. Lead image: Wikimedia.