The C-27J Spartan is a hell of a plane. Famous for its ability to take off from unfinished runways, it's a staple used by militaries around the world, including the United States. At least it was until recently. The Air Force is sending its latest batch of beautiful, brand new C-27Js straight to the boneyard in Arizona's desert.
The notion of stashing brand new cargo planes in storage alongside thousands of dead aircraft is sad, but it's sort of everybody's fault. Since 2007, the Air Force has spent some $567 million acquiring the new aircraft—only to realize, in the wake of sequestration cuts, that it actually didn't have enough missions for the planes to fly. This was around the same time that President Barack Obama told the airmen at Mansfield National Guard Base in Ohio, one of the homes of the C-27J fleet, that he would "find a mission" for the planes. Well, he didn't, and now they're going to be rotting in a desert, perhaps forever.
It's not like no one tried to stop this from happening. Air Force Chief of Staff General Norton Schwartz told Congress in 2012 that the Air Force couldn't afford to sustain the C-27J, while the Ohio Air National Guard said it could fly the C-130 for a third of the price of the C-27J. Nevertheless, it was apparently cheaper to go ahead and build the new C-27J fleet and send it to the boneyard than it was to just cancel the program altogether. God bless America. Also, why does this keep happening? [Aero News]
Update (2/4/2014): Good news! Despite the trip to the boneyard, 21 C-27J cargo planes have been given new missions with the U.S. Coast Guard and U.S. Special Operations Command, home to the Seals and Delta Force. So it looks like the Pentagon might get their money's worth after all.
G/O Media may get a commission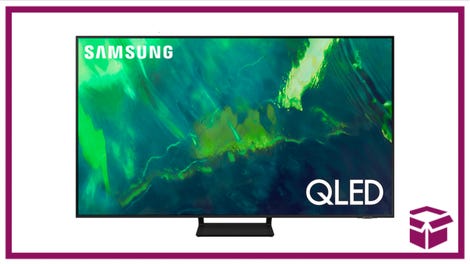 35% off
Samsung Q70A QLED 4K TV
Save big with this Samsung sale
If you're ready to drop some cash on a TV, now's a great time to do it. You can score the 75-inch Samsung Q70A QLED 4K TV for a whopping $800 off. That knocks the price down to $1,500 from $2,300, which is 35% off. This is a lot of TV for the money, and it also happens to be one of the best 4K TVs you can buy right now, according to Gizmodo.
Image via Wikipedia