Apple may be riding the highest stock prices of its lifetime, but China continues to be a vexing problem for the hardware giant. With a high-profile legal dispute with Qualcomm threatening a ban on the iPhone in China and its market share in the country falling, more bad news arrived late last month when the Apple Watch's cellular service was reportedly shut off by Chinese authorities.
When Apple held its big annual product event in September, one of the most prominent updates was the addition of cellular connectivity for the Apple Watch. After a couple of generations of it being tied exclusively to the iPhone, the Apple Watch could finally be its own master and everyone could live out their Dick Tracy dreams. But according to the Wall Street Journal, Apple Watch buyers in China had their dreams abruptly snatched away without explanation on September 28th. From the report:
Industry analysts say the suspension likely stemmed from Chinese government security concerns to do with tracking users of the device, which uses different technology than standard mobile phones.

China strictly regulates mobile phones and all three major telecom service providers are state-owned companies. To get a SIM—subscriber identity module—card to operate the phone, users must register under their real names with a network carrier.

The latest Apple Watch poses a challenge to the existing user identification system, industry analysts said. The watch contains a new and tiny version of the SIM card, called embedded SIM, or eSIM. The eSIM is embedded in the watch by Apple, not by carriers.
According to the analysts speaking with the Journal, Chinese authorities haven't figured out how to reliably track a user's identity with eSim yet, and that is likely the reason for the loss of the feature.
Sign-ups for cellular service on the Apple Watch in China lasted for just a few days before the suspension, and was only offered by China Unicom. Following the suspension, the telecom released a statement saying only that the cellular service had been offered on a "trial basis." According to the Journal, China's Ministry of Industry and Information Technology did issue a trial certificate for the cellular function on the Apple Watch in August but it never gave its formal approval. For users in China who have already paid upwards of $600 for the new device but didn't get to set up their cellular service, this is sure to be a disappointment. We've reached out to Apple for comment, but have yet to receive a reply. We'll update this post when we do.
G/O Media may get a commission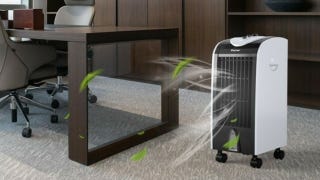 Save $10
Evaporative Portable Air Conditioner Cooler with Filter Knob
This year has been rough for Apple in China, a nation that has over 1.3 billion people living there and offers tons of opportunity for growth. iPhone market share in China has fallen from 16.5 percent in 2014 to about 7 percent this year. Meanwhile, Chinese authorities have aggressively targeted Apple, shutting down the iBooks and iTunes services within its borders and demanding the removal of all VPN services from the App Store.
Perhaps most worrisome of all is a lawsuit filed in China by chip-maker Qualcomm against Apple in late September that seeks a total ban on iPhone sales in the country. The suit is part of an ongoing feud between the two tech companies, and analysts tell Reuters that an injunction against Apple is unlikely to be approved. Still, it's a threat that causes uncertainty and looks to keep Apple tied up in court for quite some time.
On top of all this trouble, the top-of-the-line iPhone X has been plagued by rumors that it will be in short supply, and lack of enthusiasm for the iPhone 8 was credited for 1.5 percent drop in Apple's stock price on Thursday.
[Wall Street Journal, Reuters]