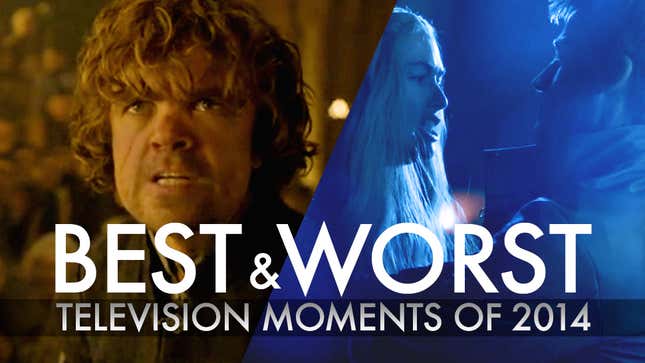 This year's science fiction and fantasy television delivered amazing highs and some cringe-worthy lows. We've rounded up the year's best moments, along with some of the absolute worst (in no particular order) for your viewing pleasure. SPOILERS AHEAD.
Best TV Moments from 2014:
Snapz Pro XScreenSnapz021
Community - Meow Meow Beans
Community's GI Joe intro was really good, but the Meow Meow Beans episode was spectacular.
Orphan Black - Shower Showdown
It was very, very, very hard to pick a single moment from Orphan Black. The end reveal, Donnie and Alison reconnecting, the clone dance party, so many good scenes. But the shower scene between Sarah and Helena, that made us claw at the television screen out of sheer terror/anticipation.
Snapz Pro XScreenSnapz003
Ascension - "Rocket Man" Establishing Shot
Ascension's pilot may have jumped the shark a little, but this establishing spaceship shot set to Elton John's "Rocket Man" was beautiful, and gave us all a great sense of scope aboard Ascension.
Game Of Thrones - Tyrion's Confession
Hard to pick one scene, but if we have to, we're going to select the Game of Thrones mic drop that was heard across the living rooms of America. Runner-up? The scene that made living rooms across America scream and scream and scream and scream.
G/O Media may get a commission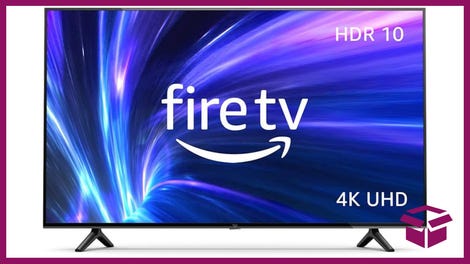 42% Off
Amazon Fire TV 50" 4K Smart TV
Outlander - Wedding Scene
So what if it's obvious? We're simple people, OK? The wedding scene was much anticipated, and it delivered.
True Detective - Time Is A Flat Circle
One of the very best moments to come out of an overall stellar new series.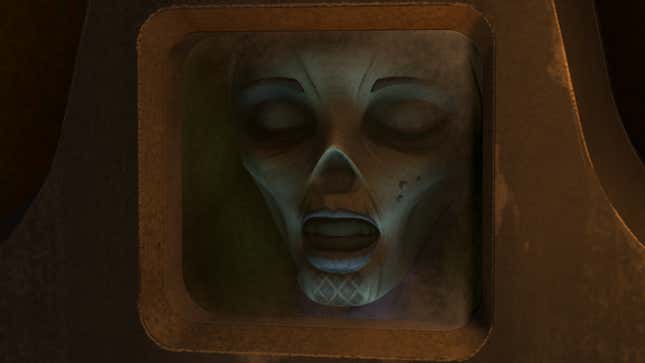 Star Wars Rebels - Luminara Unduli's Remains Are Used For Evil
We did not see this dark twist coming, especially on a Disney animated series. Jedi Master Luminara Unduli's remains were being used to lure Kanan and friends into the Inquisitor's clutches. Yup, they desecrated a character's corpse. Plus, this was the first time in ages we've seen a new Force ability added to the Star Wars verse in a really gigantic way. The creepy act also helped set up the Inquisitor as a total nightmare. Runner up, Kanan's big lightsaber reveal.
Doctor Who - Hermit Crab Doctor
The TARDIS shrinks with the Doctor still inside. Adorableness ensues. Second place, when the new Doctor delivers this line, "I have the horrible feeling that I'm going to have to kill you. I thought you might appreciate a drink first. I know I would," it's a whole new world.
Arrow - The Boxing Glove Arrow
You thought it couldn't be done. You were wrong.
The Simpsons - Hayao Miyazaki Tribute
A spectacular year for The Simpsons. We got a Futurama crossover, a LEGO episode that channeled Philip K. Dick, and an entire "Treehouse of Horror" tribute to A Clockwork Orange. But our stand out favorite moment has to be the Hayao Miyazaki-inspired intro sequence.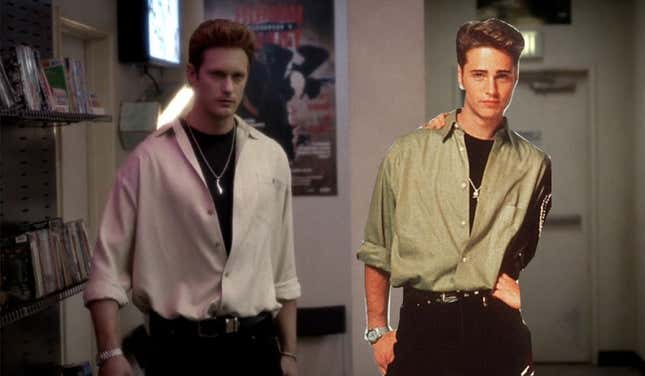 True Blood - 90210 Vampire Eric
The final season of True Blood had a lot, A LOT to get excited about: The return of killer Vampire Bill (if only for one episode), the reconnecting of of Jessica and Hoyt and the blood sex, oh the blood sex! But the very best part of the final season was learning the origin story behind Fangtasia, and getting a glimpse at '90s Vampire Eric. I said goddamn!
The Leftovers - The Speech
Stirring look into the reality the each Leftovers character was facing.
Snapz Pro XScreenSnapz003
American Horror Story: Freak Show - Bette and Dot Tattler
American Horror Story: Freak Show may be a mess, but Sarah Paulson is simply killing it as the two-headed sister singing team Bette and Dot. And her performance in "Pink Cupcakes" was absolutely was terrifying. At this point we're 100% convinced that she has always been born with two-heads.
Sleepy Hollow - Savings And Loan Rant
This series is at its very best when it just lets Ichabod be Ichabod. And oh, what a pious dick he was this season (he was also a gentleman and a scholar and the keeper of keys to our heart, but for now, let's talk about the fun stuff). It was hard to pick between Crane's rants against Ben Franklin and the various other modern day atrocities ( The Bachelor), but this Savings And Loan bit is pretty spot on. "The wedding industry?"
Adult Swim - Too Many Cooks
"It takes a lot to make a stew. A pinch of salt and laughter, too. A scoop of kids to add the spice. A dash of love to make it nice, and you've got, too many Cooks. Too many Cooks. Too many Cooks. Too many Cooks. Too many Cooks..."
Korra Book 3 Finale - Wi-Fi
The Legend of Korra - Final Scene In Book 3
Korra ends Book 3 half dead and confined to wheelchair. Her near-failure had just almost ended the Avatar cycle and here she's still feeling that in the denouement. It was a powerful and gut-wrenching moment. Of course, it also helps that this led us into Korra's difficult recovery arc in Book 4.
SHIELD - May Vs. May
Excellent action, nuff said.
Saturday Night Live - Hobbit Office
Martin Freeman recreates our favorite Office character, and we didn't think it could get any better until Bobby Moynihan pulls out a spot-freaking-on Gandolf as David Brent creation. It's so good it's a little scary.
Walking Dead - Lizzie
Watching "The Grove" was similar to being socked in the stomach over and over. Little Lizzie (who grew up in a world of the dead coming back to life) doesn't fear the Walkers, rather she loves them. And that love turns into a big fat problem for the rest of her companions when she attempts to rationalize her love for Walkers with murder. "Just look at the flowers, Lizzie."
Snapz Pro XScreenSnapz004
The Flash - Code Names
UPDATE: Bless this show and it's ability to be all things fun and cheeky. But also totally self aware.
Person Of Interest - Threat To The System
Update: Sorry I forgot this moment, I'm a dummy. Forgive me!
The Worst TV Moments from 2014: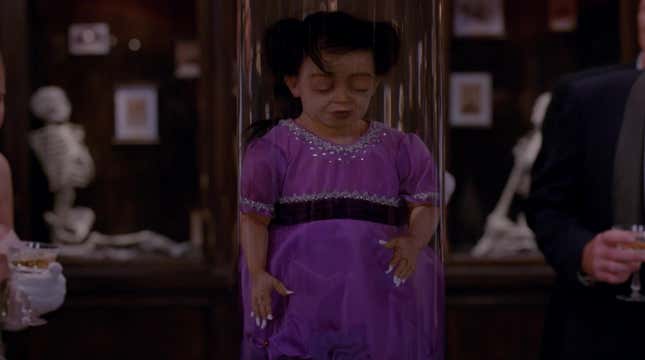 American Horror Story - Ma Petite's Death
This beloved character's death came one episode after the previous episode pretended to do the very same thing. So by the time AHS decided to kill Ma Petite (and we still think they should have kept her around), this show had already become the boy who cried kill Ma Petite. A total waste of a scene and a good character. Just needlessly horrific.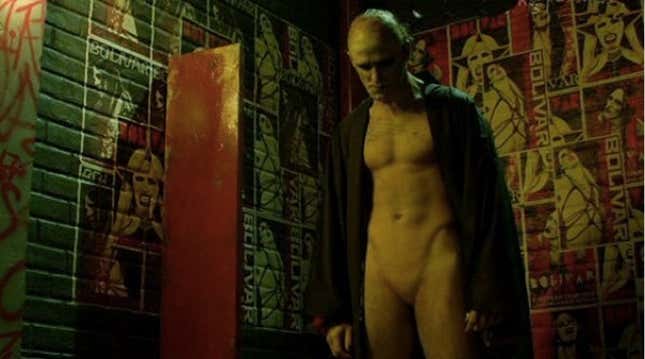 The Strain - Penis Flush
A character transforming into a vampire creature stands over the toilet as his penis falls off. And then he flushes it down the toilet. While we have no problem with the genitalia falling off everywhere, it was the flushing that really made us go "huh?"
Salem - Rape Torture Scene
Just a vile torture scene. Adds nothing but the feeling of needing a shower after watching this clip.

Under the Dome - Flu Death
Rebecca tries to kill the entire town using flu virus at a c hurch service, because science.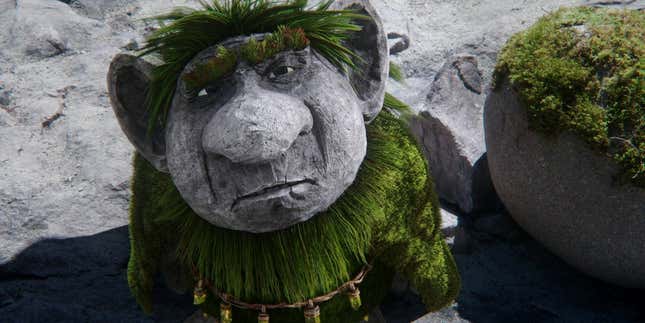 Once Upon A Time - Frozen
The shoehorned Frozen plotline. Hey, the actors were great (we kind of fell for Anna, she was so delightfully goofy) but overall the cash grab left us cold. CORRECTION: An earlier version of this story said that Frozen was brought in due to falling ratings, that was worded poorly and wrong. Frozen's incorporation into season four's premiere brought in gangbuster ratings on top of already fine ratings. However the last episode this year hit the series low (which was when the Frozen cast exited Storybrooke). Apologies for the confusion. We still love Once, just not Frozen.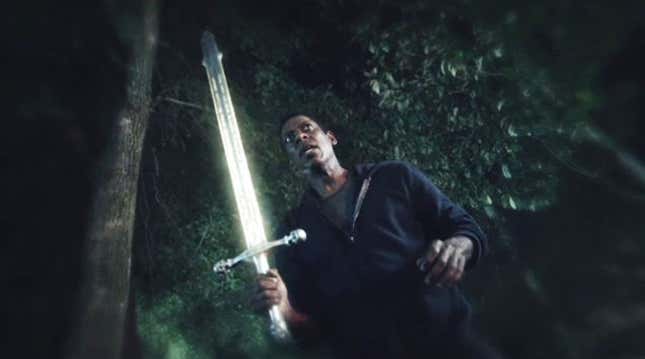 Sleepy Hollow - Irving's Death
Sleepy Hollow executes a beloved character who had a lot of promise because it could, not because it should. Irving's departure felt hollow and full of bullshit.
He better come back.
Extant - Robot Boy Dies Then Comes Back
Ethan the adopted robot boy (who was a budding serial killer in the pilot, but quickly underwent a personality makeover) sacrifices himself to save his mother, but is somehow mysteriously uploaded into the cloud? So now he's not in a little boy's body. He's EVERYWHERE. Somehow, everyone finds this sweet and not terrifying .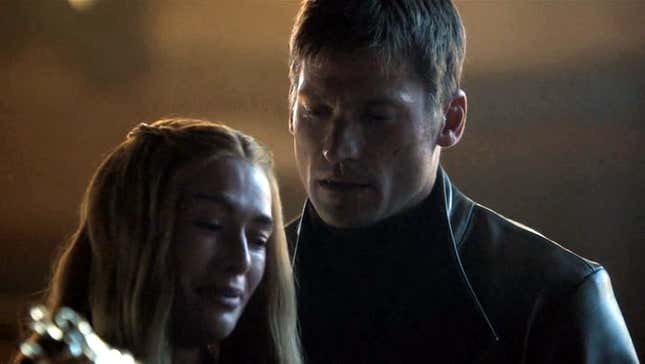 Game Of Thrones - Incest Rape
Jaime Lannister rapes his sister next to the corpse of their dead son, a scene so controversial that author George R.R. Martin had to address the HBO changes on his website.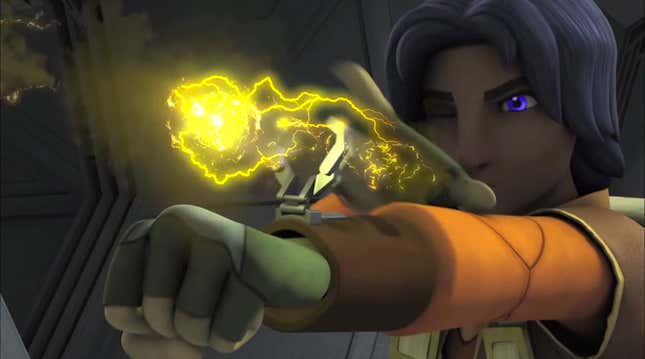 Star Wars Rebels - Every Single Scene With Ezra's Slingshot
Any second we find ourselves embedded into the story or action of Star Wars Rebels, we can always count on Ezra's bullshit slingshot to rip us right out.
Falling Skies - Alien Conference
The aliens have a psychic teleconference where they twirl telepathic mustaches.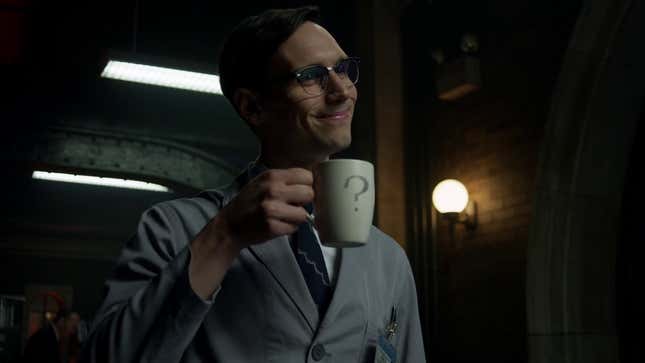 Gotham - So Many On-The-Nose Obvious Nods
"If I want riddles Edward I'll read the funny pages!"
Snapz Pro XScreenSnapz008
Dominion - Angel Sex Funeral
I loved the insane "let's make a new monarchy based off hotel names" angel war series that was Dominion. Even when they did really stupid things like hold gladiator matches and willingly bring angels that could murder everyone inside their gates. But the angel sex funeral was by far the worst (and also the best).
Additional reporting and suggestions thanks to Lauren Davis, Kelly Faircloth, Charlie Jane Anders, Rob Bricken, Katharine Trendacosta, Rob Bricken, and Cheryl Eddy.
Top image by Sam Woolley.