Given that the entire planet's been in throes of Pottermania for over a decade, the internet's churned out tons of funny (and profoundly bizarre) video tributes to J.K. Rowling's boy wizard. Here are some of the best.
The 8-Bit Harry Potter Interactive YouTube Game
Harry's incessant adventures have left him delinquent in his studies, and he must attend summer school at Hogwart's. A Final Fantasy-style choose-your-own-adventure game for those with time to kill.
The World's Biggest Harry Potter Fan
This fellow entered Moviefone's America's Biggest Harry Potter fan competition. This fellow loves Harry Potter like Ron Weasley loves being fairly useless.
Harry Potter & The Rejected Scenes: The Sorting Hat
Speaking of which, here's a revised take on Harry's first encounter with Ron. Weasley was a bit of a plonker when we first met him.
The curious interviews of a Japanese Harry Potter fan
In 2009, the Japanese television show Karakuri Terebi allowed a Harry Potter superfan named Kana to meet Daniel Radcliffe and Rupert Grint. Upon meeting the actors, she promptly gave interviews which can only be described as performance art. You can watch her full discussion with Radcliffe here.
Harry Potter vs. Requiem for a Dream
There a ton of HP mash-ups out there, but this one win points for recasting Hogwarts as a haven for junkies. This needed a scene of Harry literally chasing the dragon.
Harry meets John Constantine
This is the closest we'll get to a Tim Hunter movie, methinks.
Daniel Radcliffe on Extras
Although not explicitly Harry Potter related, Daniel Radcliffe gave a demented self-portrayal on Ricky Gervais' hilariously depressing film industry comedy Extras. Radcliffe plays himself as a pervy man-child driven mad by his prepubescent fame.
A Very Harry Potter Musical
In 2009, the University of Michigan theater group StarKid performed an irreverent, all-musical revue of Harry's adventures.

Harry Starts A Band
Internet videographers The Pistol Shrimps have a ton of videos in which they insert themselves into the Harryverse and yammer in falsettos (they did such recently).
Harry vs. Voldemort MC Battle
Rap parodies are painful 90% of the time, but the production values are higher than average on this one. Also, Harry kind of does look like Marcy from Peanuts' lost sibling.
Lindsay Lohan plays Hermione on SNL
This sketch from 2004 is moronically one-note, but Rachel Dratch makes a fine Harry.
Harry Potter, Satan, and You
This wonderfully alarmist video was filmed on the set of a high school picture day.
Trip-hop Harry Potter
The remixer Pogo takes noise from movies and distends them into smooth soundscapes.
G/O Media may get a commission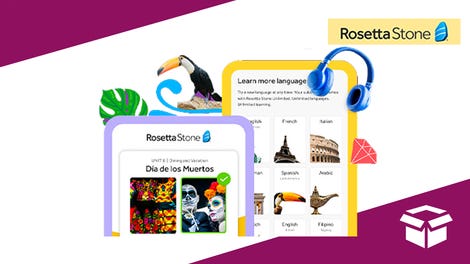 Extra 20% off
Rosetta Stone Lifetime Subscription - All Languages
Wizard People, Dear Reader
The ne plus ultra Harry Potter fan video. Comedian Brad Neely (whom you know from his Professor Brothers and George Washington vignettes) created this lunatic, movie-length vocal track for Harry Potter and the Sorcerer's Stone in 2004. What you do is pop in the movie, put it on mute, and sync up Neely's drunk uncle vocal track (downloadable here). You can also watch it in full on YouTube, but it's best watched with a group.
If you've never seen Wizard People before, cancel all your plans for the next 8 minutes and watch Neely's take on the Quidditch match. It's better than all of the above videos put together (and quite possibly more enjoyable than the lump sum of the entire Harry Potter franchise).
Here are some other Harry-related video goods for your perusal...
- The Death Eaters run amok in NYC's Grand Central Station.
- The joys of real-life Quidditch.
- College Humor mashes up H.P. with Dangerous Minds.
- Robot Chicken has given Harry the claymation treatment. Watch here and here.
- Richard Dawkins hates Harry Potter.
- The documentary Wizard Wrock.
- The Teenage Mutant Ninja Turtles invented Lord Voldemort.
Have your own favorite Harrycentric videos? Post them in the comments below!
[Top image via Twynkle]