The era of listening to any song, at any moment, in any location is fast approaching. While we're not quite there yet, a handful of on-demand music services have come close. So we put them head-to-head to see who's best.
We narrowed it down to four main ones—Grooveshark, MOG, Rdio and Rhapsody— which offer on demand streaming on multiple platforms. We left out services that worked on a limited number of operating systems and devices (Napster, Zune), and others that functioned more as custom-tailored radio services (Pandora, Slacker, Last.FM).
How'd we select these four services? They all use a similar and successful formula.
For a monthly fee, each gives you access to millions of streaming songs that can play in your browser or from different audio devices. All four have deals with the major record labels and distributors, so they get most of the big releases. They all provide some form of quick search functionality, which allows you to fetch results as you type in a search string. And they all have artist playlists and/or Pandora-style radio, which builds lists based around artists or songs. Now that we have that out of the way, let's talk about the individual pros and cons of each one:
G/O Media may get a commission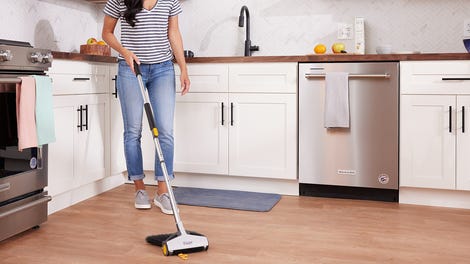 BOGO 50% Off
Flippr - BOGO 50% Off
MOG
Price: $5/month web-only/$10/month web and mobile
Library Size: Over 11 Million
Bitrate Quality: 320kbps MP3 web streaming/320 MP3 mobile download/64kbps AAC mobile streaming
Platforms: Web, iOS, Android, Roku, Chrome

When it comes to specs, MOG has the advantage. They have more songs than everyone except Rhapsody and they stream at higher bitrates, which means better sound on nice speakers and headphones. At worst, it sounds good and at best it sounds excellent. Most of the major new releases are available on their Tuesday release dates, and they manage to snag an occasional pre-release stream. They also provide hand-picked album recommendations daily for those in search of new music.
The iOS and Roku apps, if not life changing, are serviceable apps that do their job and mostly don't between you and your music. Meanwhile, their Chrome web app (which works in any browser) is fantastic. It's well designed, provides plenty of visuals and big, clickable buttons; it's blazing fast and moves from screen to screen with smooth animations.

While all the apps are well thought-out and executed, the main site (which most people will interact with, presumably) is a mess. The search and navigation process is too text-heavy, interactive elements (like play/add buttons) can be too small, and songs play through a flash-based pop-out window, which tends to get lost amongst your other open windows.
Also, the social aspect of MOG's site feels undercooked compared to Rdio. While it provides much of the same social information that Rdio provides, that info is harder to get and the presentation is lacking.
(ALSO, I used to work in the editorial department of MOG, but I can promise you it didn't affect my opinions here one way or the other.)
Rdio
Price: $5/month web-only/$10/month web and mobile
Library Size: 9 million
Bitrate Quality: 256kbps MP3 web (mobile bitrate undisclosed)
Platforms: Web, Windows/OSX desktop, iOS, Android, Sonos Blackberry, Windows Phone 7
Rdio's web UI is well-designed, and navigation is silky smooth. Load a track and it starts playing in a module on the left side of your browser window. If you hop to another page inside Rdio, the music keeps playing without so much as a stutter. You also have a "collection," which corrals your favorite songs and albums. The mobile app is also a winner, combining all the social and search elements of the web-based version with a UI that comes close to mimicking the iOS music player (always a good thing).
Rdio is all about simplifying the experience down to two core elements, listening and exploration/sharing via social elements. You can add other users as friends much like you would on Twitter. When you log in to the site, you're greeted with a colorful mosaic of album art that either shows your most played songs/albums, your friends' most played songs/albums, or that of the entire Rdio network. For the casual music fan, this is a good way to stay up on not just what's new, but also to know what the people you surround yourself with are into.

The most glaring flaw in Rdio is streaming over 3G. While they deliver 256kbps streams over wi-fi in the browser/desktop/mobile apps, the 3G streams are of a lower quality that the company will not disclose. The difference is noticeable.
They also have a smaller library than MOG and Rhapsody, which isn't a total inconvenience when it comes to the big, current releases. But when you start digging through the back catalogues of older musicians and more obscure/independent releases, you might have (a bit) more luck with MOG or Rhapsody.
And one last minor gripe: I'm ok with keeping commenting and what not to a minimum. But for features such as recommending albums to a friend, receiving alerts via email is a bit janky. How hard is it to create a notifications inbox?
Rhapsody
Price: $10/month</strong
Library Size: 12 Million
Bitrate Quality: 128kbps MP3 web/64kbps MP3 mobile
Platforms: Web, iOS, Android, WIndows Mobile, Blackberry, Connected TVs
Well, Rhapsody has more songs than anyone else, and they're available on more devices and platforms than any other service. From there, however, everything goes downhill.

Streaming Rhapsody from the web sucks. Everything from the page design to UI elements to overall responsiveness sucked (it also borderline fails to work in Chrome). Rhapsody also doesn't offer the same type of social element that Rdio or even MOG offers. They have a social element to some degree, but it's so limited in functionality and hard to find that it's borderline useless.
On top of that, if you use anything better than stock computer speakers or cheap earbuds, the audio is noticeably inferior. You hear a lot of static while streaming, which I guess shouldn't come as a huge shock, since bitrate tops out at 128kbps over wi-fi and 64kbps over 3G. Also, there's no web-only option. Everyone pays 10 dollars whether you have a mobile device or not. And speaking of mobile, their iOS app is certainly better than the website, but that said, it still trails behind MOG and Rdio.
Grooveshark
Price: $6/month for no ads, $9/month mobile access
Library Size: Undisclosed
Bitrate Quality: Varies
Platforms: Web, iOS, Android, Blackberry, Windows Phone 7, Palm
Grooveshark is a bizarre creation. You arrive at the site, where you're greeted by an applet that looks like a file browser and a big search bar. Enter in artist, album or song, and results come up for you to listen to. Despite not having deals with the major labels (mostly just indies), Grooveshark still has most major releases available. How? Well, users are allowed to upload MP3s to the Grooveshark servers where they're accessible by everyone. It's like YouTube for MP3s. I don't know how they're getting away with this, but they are. And it's free (through the browser).

Because so much of the music here is user-uploaded, there's no guarantee what tracks will be available, or at what quality they'll stream. You might only find one stray song from an artist at 320kbps, or you might find an entire catalogue at 128kbps. Also, it will be curious to see how long they manage to remain operational, given the grey area they play in.
As far as the site goes, it's not the most intuitive or most inviting design in the world. It more or less looks like a file sharing site from the early 2000s, and figuring out the nuances of search and navigation will likely stump users lacking advanced computer skills.
Most troubling: it's up to you to find the music you want to listen to. Aside from radio functionality and a playlist of the most popular tracks on the network, Grooveshark only finds what you tell it to find. Casual music fans won't discover music. But since web-streaming is free, there's little risk in trying it out.

While it's already out in Europe, Spotify has yet to launch in the US due to negotiations with the record labels. Who knows how much the service will cost or how many songs will be available when it really does get here, but it looks pretty great. Spotify has the largest offering of songs and does much of what the above services do. But it also has a pair of killer features: it offers a free desktop streaming subscription (unlimited streaming for now, but will be reduced to 10 hours/month in six months), and its desktop app allows you to merge your local files with Spotify's streaming content under one roof. When you sync your mobile with your computer, all of this is funneled into the mobile app, creating a seamless music experience. Best of both worlds. That said, the lack of a web-based interface, barely adequate mobile app and strange design quirks will have some running for the Rdio hills.
it's also worth noting that since the original posting of this article, Slacker Radio morphed from a Pandora-like service to a full-blown, on-demand offering. We haven't tested the service out yet, but it is worth listing its features for consideration: Slacker has a streaming library of 8 million songs, and they tout their radio service as a source of discovery. Plus they have apps for iOS, Android, and Blackberry. Like the other services, it costs $10/month and allows you to cache tracks for offline listening.
The two main contenders here are MOG and Rdio. Both are pretty good in all aspects, and each is excellent in different areas. Either way you go, you'll find something to like about the services. But ultimately, I have to give the edge to Rdio for creating a better user experience. MOG is technically more impressive when it comes to sound quality and music offerings, but I don't enjoy using the service in the same way I do Rdio. Rdio presents relevant information about what you and your friends are listening to in a way that doesn't get in the way, but doesn't make you have to go looking for it either. And the process of listening to music is painfully easy, which is the most important thing.
Now that Spotify is out in the U.S., It's our official pick as the best streaming music service. It's streaming library size and sound quality are as good as any other service, and as previously mentioned, the free streaming and ability to import local files set it over the top. This is a service that music nerds and n00bs alike will find value in.
That said, Rdio still remains a close second for having a couple of features which Spotify lacks (and may be dealbreakers). Though they have a considerably smaller selection of songs, Rdio has the best mobile app around. If you're signing up for a streaming service primarily to get as much music off your smartdevice as possible, or you want to see what your friends are really listening to, Rdio might be the service for you.
Illustration by Robert Grossman. He is Gizmodo's guest artist of the month. His illustrations have been published over 500 times on the covers of various national publications. TIME, Newsweek, Rolling Stone, Esquire, TV Guide, Sports Illustrated, The Times, The Nation, The New York Observer, The Atlantic Monthly, The New Republic, Evergreen Review, New York magazine, National Lampoon, and The New York Times have all published illustrations by him. He has created album covers for Columbia, Epic, Warner Bros., and United Artists, and was nominated for an Oscar in 1977 for Best Animated Short Film.