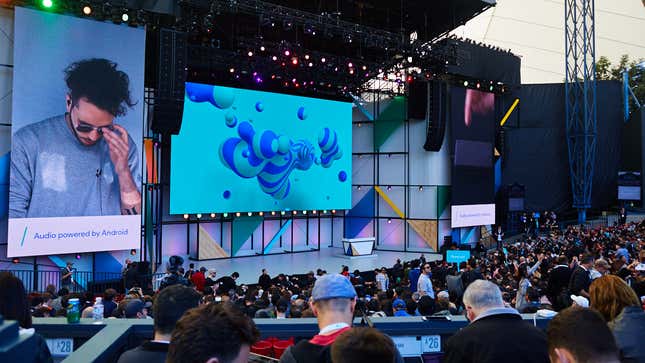 I/O, Google's huge developer conference/outdoor coding festival will be wrapping up in Mountain View tomorrow. Thousands of developers have been soaking in the sun and knowledge while Google woos them with free Google Homes, raw vegan salads, and a live performance by LCD Soundsystem. Usually the can't miss moment of the conference is the Day 1 Keynote, when Google announces big changes to Android, Daydream, and other software and services. Yet this year, Android's biggest news was announced four days before the conference. So let's talk about Project Treble, Google's plan to get Android updates to users faster.
Rob Savage on Collaborating with YellowJackets' Sophie Thatcher
Deciphering Google's blog post on the subject feels like it requires a degree in Computer Science, but in short, it appears Google is changing how the core framework of Android works so that it can push big future updates, like the next iteration of Android, Android O, to phones without waiting on phone carriers or phone designers to do it. This is potentially great for consumers. Most of us have grown bored with Android updates precisely because it's unknown when or even if our phones will get those updates.
Android currently boasts two billion monthly active devices, but according to its own numbers only 7.1-percent of those devices have the latest Android OS (Nougat) installed. Even relatively new phones like the Samsung Galaxy S7 were slow to get Nougat, with the roll out starting in earnest just last month, seven months after Nougat launched. That means many S7s still can't run apps side by side, control notifications, or take advantage of the 72 emojis Nougat added.
"It would be a massive game changer," mobile developer Brandon John-Freso told me after he and his friends Googled the poorly publicized project. "That's super huge." Indeed, Project Treble, and what it could mean, might be so good that it's kind of alarming it wasn't discussed more during the Day 1 keynote. (Google even told us it didn't have any people on the ground at I/O who were briefed to talk about it.)

"I was quite surprised," attendee Glenn Gruber, an analyst with Lopez Research, told Gizmodo. "After how huge Project Treble was, I was sure we'd get bigger news during I/O." Only, as Gruber noted, that didn't happen. Instead we got Photos and a "smarter" Google Assistant.
Which is crazy! Project Treble has the potential to fix one of devs, and consumers, biggest complaints: Fragmentation. Instead of feigning excitement about many of the relatively minor updates Google choose to focus on, us regular people could have been excited about the new iOS-like version of the Android ecosystem.
Consider that according to Apple, seventy-nine percent of iOS devices are on the latest version, iOS 10. Developers know they can take advantage of the coolest iOS features because the majority of users will be have access to those features. Like when Swiftkey and other third party keyboard apps launched alongside iOS 8, the iOS version that allowed for third party keyboards. Third party keyboard makers could immediately take advantage of the iOS 8 feature because they knew that had a guaranteed enormous audience.
That simply wouldn't be possible today with Google. Yet when Project Treble goes live with Android O later this year that will be possible. iOS's biggest competitor is closing a major gap between them. Too bad no one at Google I/O knew about it.