Remember just a few months ago how we all thought Logan's James Mangold could be bringing Star Wars' most infamous bounty hunter to the big screen? Well, that's apparently no longer the case, thanks to that hip, new armored badass in Star Wars town.

The arrival of The Mandalorian—Jon Favreau's Star Wars series for the still-untitled Disney streaming service—means that Lucasfilm's long-in-the-works plans for a movie spinoff focusing on Boba Fett are, at least for now, no more. The news was confirmed by entertainment reporter Erick Weber, speaking to Lucasfilm president Kathleen Kennedy at a screening of Black Panther, where Weber also got some intriguing status updates about the Marvel Cinematic Universe from Marvel Studios' Kevin Feige.

We've reached out to Lucasfilm to confirm that Kennedy was in attendance and to clarify the fate of the Boba film—because, after all, despite the fact it was very nearly unveiled at Star Wars Celebration three years ago, with Josh Trank at the helm, there's never actually been an official acknowledgement of the Boba film in the first place. It's been in the miasmic, ephemeral limbo of rumored Star Wars projects alongside everything from the Obi-Wan spinoff to even that weird rumor about a Mos Eisley-set Star Wars Story.
But it being left on the wayside for now in favor of The Mandalorian makes a lot of sense. After all, The Mandalorian takes place in a still mostly untapped setting for the Star Wars galaxy, and even though its protagonist wears some very familiar gear and tech, presumably the still-unidentified protagonist of the series isn't actually Boba, but an entirely new character. That's a much more intriguing and exciting concept to explore rather than going back into the past of a familiar character (a concept modern Star Wars is far too enamored with)—who is, in the first place, primarily a set of cool armor than an actual character.
G/O Media may get a commission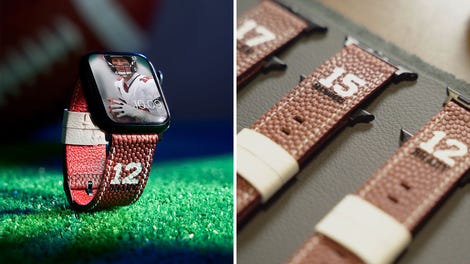 Official NFL PRODUCTS
Official NFL Apple Watch Bands
Someone in the galaxy far, far away already put it best: Sometimes, you have to let the past die. Kill it, if you have to.