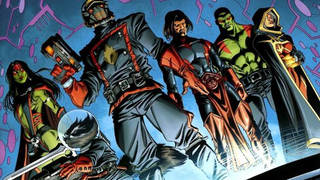 When Guardians of the Galaxy came out last year, if you wanted the entire movie team in Hasbro's 6" Marvel Legends Line, you had to spend money (and get figures you might not want) to get all the parts for the "Build-A-Figure" Groot. That's not the case with this brilliant new set based on their comic book looks!
Based on their appearances in Dan Abnett and Andy Lanning's 2008 Guardians of the Galaxy series, the figure set won't actually contain the full comic book team — movie heroes Gamora, Rocket, Star-Lord, Groot and Drax are included but no Adam Warlock or Quasar/Phyla-Vell. Boo! But it's nice to see there being some form of the Guardians all together in the 6" line.
Not all the figures are new — Star-Lord was part of an SDCC Thanos set last year, and the Rocket has a new Head on an old body used as a special promotional figure for Marvel Unlimited last year, but it is the first time the comic book Groot has had a figure in the Marvel Legends Infinite Line (even if it is the movie Groot with a new comic book head).
Each Guardian comes with a variety of weapons and accessories (like the Cosmic Cube or even an Alternate head with a different hairstyle for Gamora), but the best of all? There's a teeny weeny potted Groot too. D'aaaw.
The Guardians Box Set is Exclusive to Entertainment Earth, and will set you back a hefty $120 when it releases in August.
[via Toyark]