ABC aired the holiday special Toy Story That Time Forgot, and it was, as expected, adorable on every level. There were also a few surprising references thrown in. Below, everything we loved about it.
Spoilers...
The plot was pretty simple: Bonnie takes to toys to Mason's for a playdate. Mason and Bonnie leave the toys for to play the new game system Mason got for Christmas. Meanwhile, Woody, Buzz and the gang encounter the Battlesaurs, toys who, like Buzz in the first film, don't know they're toys. Unlike Buzz, it's not just a misunderstanding. Their elder has purposefully kept them in the dark of their nature in order to maintain his power.
The real protagonist of the special is Kristen Schaal's Trixie, who is tired of Bonnie never playing with her as a dinosaur. She's been all sorts of things, but not the thing she's been made to look like. Of course, meeting the Battlesaurs, who are stuck being only what they are made, teaches her that Bonnie's imagination means she can be anything. And that's something to be happy with.
Now, on to the best parts. First, I was really enamored with the transformation trick Bonnie created:
G/O Media may get a commission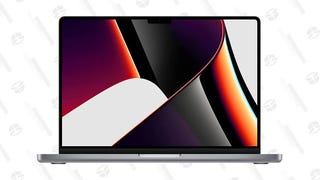 Save $300
2021 14" 1TB MacBook Pro
When the toys meet the Battlesaurs for the first time, there are some subtle shout-outs to other Disney properties. The Cleric has a bit of the Emperor in him, saying, "I find their lack of armor disturbing." And later, Buzz mimics another flying man with "I've had enough of Shakespeare in the Park today." That's a reference that feels a little too esoteric to not be a shout-out to Iron Man dissing Thor in The Avengers.
Trixie and Rex are outfitted in Dino armor, which has the effect of replacing Rex's tiny hands with some HUGE ones:
Talk about "Unusual, Horrible Hands." They also allow the Cleric to turn Rex into a bit of a zombie:
The Battlesaurs have also turned their commercial jingle into their anthem.
The guitar sting at the end is pretty much every X-TREME! commercial my childhood had.
The Battlesaurs have a Roman-style arena, with the cleric taking the role of Emperor:
And some slow-mo crayon blood from Reptilius Maximus' attack on Woody and Buzz:
Also quality is Buzz's incredulous, "You have a crayon?"
Their battle was very well choreographed, but I loved this moment most:
Reptilius Maximus chases Trixie to the room Bonnie and Mason are in, and a little of Bonnie's imagination is enough to get some quality playtime in. And a jab at Florida:
Mason: What planet is he from?

Bonnie: Neptune. Or maybe Florida.
But the best is saved for last, with some Woody and Buzz breakdancing:
Bonus awkward moment. Given that Trixie and Reptilius Maximus have a romance going on, this post-play rest really feels like it was framed to look post-coital:
It was an altogether charming and fun half-hour, with some great lines. No clue if it's a classic holiday special, but perfect for early December.