Ever since Barbara Gordon took on the mantle of Batgirl once more in the New 52, no one has stepped up to take on her former mantle as superheroic cyberintelligence expert Oracle. That is, until now. And the new Oracle is a bit of a surprise.
For the first few issues of Julie Benson, Shawna Benson, Roge Antonio, and Allen Passalaqua's Batgirl and the Birds of Prey series, Batgirl, Black Canary, and Huntress have been on the trail of a new informant on the scene in Gotham, using Barbara's old code-name to dish out information to the mob. Their quest to discover the new Oracle and their base came to a conclusion in this week's Birds of Prey #5, which revealed Oracle as...
A nerdy Batgirl/Birds of Prey fanboy hacker. A really nerdy one. Say hello to Gus Yale, current user of the Oracle identity (much to the team's chagrin) and absolute doting fan of all things Barbara Gordon.
G/O Media may get a commission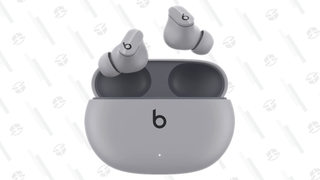 The Birds of Prey discover Yale's lair is filled with weird Batgirl/Barbara Gordon memorabilia—everything from Barbara's old glasses before she got Lasik, to one of her Batarangs, complete with hunks of Velvet Tiger's hair still attached to it—and that all of the information he's been releasing has been an attempt to pitch himself as anew Oracle to take Barbara's place now that she's back in the field as Batgirl. Suffice to say, considering Gus has been dishing out info to the Mob as part of his "pitch," the team are initially unimpressed.
Dinah even calls him "Fauxracle" at one point, which is pretty damn good. But Barbara, annoyed as she is with Gus for his someone unorthodox method of trying to get on their good side, slowly warms up to him throughout the issue (especially after it's revealed Gus has been sending his Mob money to charity instead of spending it on himself). She even lets him watch her work once more as Oracle, guiding Canary and Huntress on their mission like the good old days.

But if Barbara's going to stay on as Batgirl for the foreseeable future, the Birds of Prey could do with some techy backup. Maybe Gus will get that job he's always wanted after all... if he can stop freaking out every other second, that is.