Since The Shallows is a shark movie, director Jaume Collet-Serra researched the crap out of sharks in preparation—the result of which is a film that explores aspects of the creatures we've rarely seen before. The weird thing is that the director himself doesn't see The Shallows as a shark movie.
"I didn't look at any other movies in the shark sub-genre because I consider this more of a survival movie," said Collet-Serra told io9. "The shark attack is the beginning and then she's stranded and trying to figure out how to get out."
Though the shark has been the main selling point, much of The Shallows does feature Blake Lively's character simply stranded on a rock and trying to stay alive. However, that's not to say attention wasn't paid to the shark. In fact, lots of attention was paid to the shark and it gives this shark, a female according to Collet-Serra, some added intrigue.
"There's so much mystery surround sharks," he said. "I wish I could go into the movie and explain all the things that we know but that's for the Shark Week fans. [For example] the scars on female sharks, like this one, are through sex. The male sharks have to grab them and that's why they have all the scars."
Sex scars fall into Collet-Serra's steadfast mantra when it came to dramatizing the shark. "My theory is always that if I have seen it, if it was captured on tape, even if it's just once, then I can put it in the movie," he said. Hence some of the insane things the Shallows shark does in the film. "Now you won't have one shark that is consistently killing so many people in one single space, that's the part that's not realistic."
G/O Media may get a commission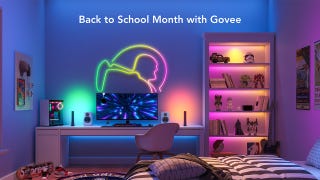 Back to School
Back to School Month with Govee Sale
That realism even extended to the shark's point of view. When you think shark point of view shots in movies, you think of Jaws. Underwater shots with a swimmer carelessly flailing around. They're terrifying and they serve that purpose in The Shallows too. But not why you'd think.
"When you [look to] the surface of the water, [that terror] has nothing to do with Jaws, it has to do with we never know what's underwater," Collet-Serra said. "That's why I was able to get away from having such a brightly lit movie and still keeping it scary and tense. As bright and colorful as it is on the surface, it will always be darker and murkier underneath."
The director also revealed that despite any preconceptions the audience has, camera in The Shallows is rarely the shark's point of view. "If [the camera] is moving and its circling, it is the shark," he said. "If it not moving, it's not the shark, because sharks can't breath if they're not moving."
After The Shallows, Collet-Serra is moving too. He's moving on to The Commuter, a thriller with Liam Neeson, this time set on a train. And long ago, he moved on from the iconic property Akira.
Back in 2013, Collet-Serra was attached to Warner Bros. remake of the famous manga turned anime. However, he told us he departed from the project "a long time ago." Since then, there hasn't been much movement on the project and he wasn't too keen to explain why.
"It's a long conversation and this is not the time to talk about it," Collet-Serra said. But it is very difficult. It's a work of, you know, it's the best story. So it's bigger than film."
So what was his take on it? "That will go to my grave," he said.