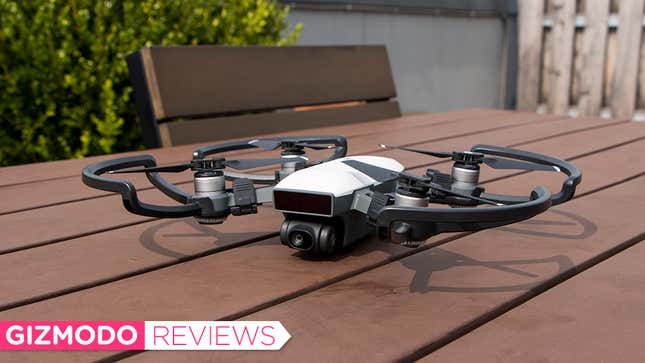 Small drones are not new. Toy-sized quadcopters have been on the market for years helping kids (and dads) start flying for a relatively reasonable price and not much expertise. Yet small drones that can do almost anything a big drone can do? That's new. And that's what makes the DJI Spark so exciting.

The Boogeyman's Sophie Thatcher Reveals What Draws Her to Dark Characters | io9 Interview
The first and, ultimately, most important thing you'll notice about the Spark is its size. It is tiny. It's so tiny, it makes the very small Mavic Pro look like an obese giant. If the Mavic Pro is the size of Italian sandwich, the Spark is the size of a hearty cannoli. At 300 grams, it weighs about as much as a cannoli, too. Since a recent court ruling found that the Federal Aviation Administration (FAA) cannot require hobbyists to register their drones, you can just take the Spark out of the box and start flying for fun. If you're using it for commercial purposes, those rules still apply.
That's part of why it took two people to review this bite-sized little quadcopter. Michael is a licensed commercial drone pilot, so he manned the controls. Adam is a recreational pilot, so he worked as the spotter (and photographer). And to be a real dad about it, you should always do your drone flights with a friend. At the very least, two sets of eyes come in handy, when you're trying to keep your eye on the aircraft. Since the Spark is so small, you'll need all the help you can get.
What kind of tiny drone is this?
This Tiny Drone Can Do Big Things
Broadly speaking, the Spark boasts all of the same features as the larger, folding Mavic Pro, but everything is dialed down. With a maximum speed of 31 mph, the Spark is not as fast as the Mavic Pro's 40 mph. With a maximum transmission distance of 1.2 miles, the Spark can't fly as far as the Mavic Pro which has a range of 4.3 miles. With a battery half the size of the Mavic Pro's, the Spark can't fly as long. You'll get 16 minutes of flight on a single Spark charge. The Mavic Pro's battery lasts 27 minutes. The 1080p camera and two-axis gimbal on the Spark is not nearly as good as the 4K camera and three-axis gimbal on the Mavic Pro.
Yet like the Mavic Pro and the Phantom 4, the DJI Spark features obstacle avoidance technology and extra sensors that enable intelligent flight modes, like Tap Fly, Active Track, and Gestures. That last one is where the Spark really stands out. Thanks to an infrared sensor on the front of the aircraft, you can actually control the Spark with your palm. A lot of people are calling this "Jedi Mode," and it's pretty cool, when it works.
This is all especially exciting since the Spark only costs $500. That makes it not only the smallest drone DJI's ever made but also the cheapest. But there's a catch, that $500 price tag does not include the cost of a controller, and you'll definitely want to fly the Spark with a controller.
To get a controller, you have to buy the Spark Fly More Combo for $700. The combo comes with a lot of other stuff that you'll definitely want, like propeller guards, extra propellers, and an extra battery. However—and that's a capital "H" however—let us remind you that you don't need the controller to fly the Spark. You can fly it with your hands, or you can use a smartphone or tablet. It's great for beginners who don't need another joy stick in their lives, but that experience might not be ideal for seasoned drone pilots, who love the tactile feel of a controller.
How does this tiny drone do in the sky?
Think of the Spark as a personal drone. Everything about it is designed to make you feel safe and in control—especially if you spring for those propellor guards. You can technically fly the Spark with your hands and take selfies by making a picture frame with your fingers. Toss the Spark in a backpack and go on vacation to California. It can take off from your palm, track you and your pal as you pose next to a redwood, take a photo, and then land on your palm. Except for the whole California vacation thing, we did this. It worked.
But the gesture control is far from perfect. You really do have to learn the different gestures and train yourself a little to do them exactly right. Even then, you're very limited to what you can do it. Basically, the Spark will take a photo of you and fly within a few feet of your palm. It's a parlor trick at best. And don't even think about trying it in the wind. The Spark bounces around in a breeze, and that seems to confuse the infrared sensor to no end.
But the technology still feels like the first generation of a thrilling new wave of drones that work with minimal effort and require nothing more than a trained human to make them fly. Or maybe, in the future, these drones will be sentient and take over the world. We don't know yet, and that's what makes it so exciting!
What does it do besides taking selfies?
Thing is, you don't need the gesture control at all. It's a fun bonus for a drone that's already awesome. It's like the Mazda Miata of drones. Sure, it's not the biggest or most powerful thing you can buy. But it's fun as hell.
We could really see the Spark being extra fun for wannabe drone racers. While 31 mph isn't the fastest speed for a DJI drone, it feels fast when you're flying the Spark in sport mode. And because the Spark is roughly the same size as the racing drones you see people flying in the Drone Racing League on ESPN, you'll start to feel like you could get the hang of this hobby. The big bummer is that the Spark currently doesn't work with DJI Goggles, the company's first-person view (FPV) headset.
Meanwhile, the camera is exceedingly decent for simple stuff like taking a selfie or shooting an aerial view of the city skyline. However one thing that the Spark camera really doesn't do well is tilt the camera lens up or down. The barebones two-axis gimbal doesn't move smoothly; it essentially jumps from one position to the next, which will keep the Spark from being useful for budding cinematographers who want smooth pans.
If you find yourself disappointed by little shortcomings like a jerky gimbal or lack of FPV goggles, the Spark might not be for you. You're probably someone who already owns a Phantom or a Mavic Pro or, who knows, a freaking $3300 Inspire. You might consider buying a Spark for your kids, though. Heck, get one for your fun-loving mom or that close friend you've been convincing to take up the hobby. It's an expensive way to get started with drones, but it's worth it for the right person.
Should you buy the Spark?
But before you spend any money, consider your mission. Are you a beginner, looking to get a first drone that works dependably well for most purposes? The Spark's a great choice. Are you a long-time Phantom owner, looking for something more portable? The Spark is a good choice, but for $300 more the Mavic Pro is better. Are you an aerial cinematographer hoping to get some of your footage in a Hollywood movie? You shouldn't even be reading this right now, because you should be saving up for the $5,000 DJI Matrice.
This is another way of saying that, with the addition of the Spark, DJI really does sell a drone for every level of expertise. And quite impressively, the $500 Spark is just enough drone for most people. No matter how advanced you are as a pilot, the Spark is genuinely fun to fly.
It could get even better with age, too, thanks to potential firmware updates and improvements to the gesture control. Otherwise, it's a magical glimpse into an exciting future of drones, aircraft that are smaller than we thought possible and that can do more than ever before.
Update 7/26/2017 - This story has been updated to include new details about FAA drone rules, namely the fact that small drones no long need to be registered if they're being flown for recreational purposes.
README
At $500, the Spark is DJI's cheapest drone and a great entry level aircraft for would-be pilots.
But you should buy the $700 combo package, because you'll want to fly with the controller as well as the propeller guards.
Gesture control is fun idea that doesn't work that well, although software updates could improve it.
Intelligent flight modes and obstacle avoidance are essential features that are usually only available on more expensive drones.
The Spark is just plain fun!