The FDA today took steps to dramatically reduce the use of trans fat in processed foods. Which, sure, partially hydrogenated carbon chains are are kind of evil, but they're also kind of super delicious. Then again, they're probably why the average American male looks a little doughy compared to his international peers.
Via the FDA's statement, issued this morning:
The U.S. Food and Drug Administration announced its preliminary determination that partially hydrogenated oils (PHOs), the primary dietary source of artificial trans fat in processed foods, are not "generally recognized as safe" for use in food. The FDA's preliminary determination is based on available scientific evidence and the findings of expert scientific panels.

The agency has opened a 60-day comment period on this preliminary determination to collect additional data and to gain input on the time potentially needed for food manufacturers to reformulate products that currently contain artificial trans fat should this determination be finalized.
G/O Media may get a commission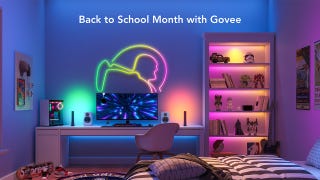 Back to School
Back to School Month with Govee Sale
"While consumption of potentially harmful artificial trans fat has declined over the last two decades in the United States, current intake remains a significant public health concern," FDA Commissioner Margaret Hamburg said in a press release. (The FDA has estimated that the average American eats 4.7-pounds of trans fats per annum.) Hamburg continues:
The FDA's action today is an important step toward protecting more Americans from the potential dangers of trans fat. Further reduction in the amount of trans fat in the American diet could prevent an additional 20,000 heart attacks and 7,000 deaths from heart disease each year – a critical step in the protection of Americans' health.
Translation: The FDA has taken measures to ensure the American public knows what it's getting itself into when it decides to tear into a package of trans fat-laden snacks; and Americans, to their credit, have listened. But the FDA thinks it can do more to protect us from ourselves.
There are undoubtedly those who will construe this as government overreach. After all, this is America, dammit, and we can kill ourselves with Ring Dings if we damn well please. But if food manufacturers are capable of making their products without trans fats (the FDA claims numerous retailers have already demonstrated this), why shouldn't they be required to do so?