Jumanji: Welcome to the Jungle (the actual new title) won't open until Christmas, but exhibitors got a first look at footage from the film at CinemaCon 2017. It revealed the not-so-secret premise, a connection to Robin Williams and, frankly, a lot of fun, family-friendly action.

It starts with four high school kids going to detention. Their punishment is to clean the basement of the school, but while down there, they find a very odd-looking old video game system. Yes, Jumanji is no longer a board game. They turn it on and each student (the nerd, the jock, the pretty girl, and the quiet girl) picks a character to play as. After they select, they are sucked into the jungle. The nerd turns out to be Dwayne Johnson, the jock is Kevin Hart, the quiet girl is Karen Gillan, and the pretty girl is Jack Black. That last bit, of course, is played for a lot of yuks.
They realize that, because they are in a video game, they each have video game powers. For example, Johnson's character is super strong and Gillan's character is a dance fighter, which they joke about. And also, she very quickly acknowledges how ridiculous it is that the game makes her outfit so skimpy. A kind of guide character tells them they have to place a jewel back into a statue to leave—but as they progress, the challenges get greater and greater. Killer animals, evil men on motorcycles, just lots of crazy stuff. And, like a video game, they each have three lives. If they lose those, they die for real.
The whole thing has a kind of Indiana Jones for kids vibe. Lots of jungle settings, lots of action, running and jumping. Slow motion fights, flame throwers, machine guns. We meet Nick Jonas' character who seems to know his way around really well. Later we see him flying a helicopter with the main characters on it, through a canyon that has a hippo stampede happening. One of those hippos eats the Jack Black character in another scene, seemingly taking one of his/her lives.
G/O Media may get a commission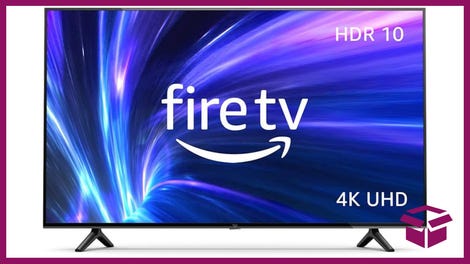 42% Off
Amazon Fire TV 50" 4K Smart TV
Oh, and at one point, the guide character mentions someone who spent a good portion of time in the game. Someone named Alan Parrish—aka, Robin Williams' character from the first movie.
Basically, Jumanji: Welcome to the Jungle looks like dumb fun, a good mix of action and laughs with a really great cast. The audience ate it up and it was the main topic of conversation after the presentation, and that's over Spider-Man: Homecoming and The Dark Tower. Sure, the fact that Jumanji is now a video game is weird, and the subtitle sounds suspiciously like an attempt to kick off a franchise. Plus, this is a movie aimed squarely at teenagers, preteens, and their parents. Nevertheless, I'm cautiously optimistic that the film will be a great ride come Christmas.