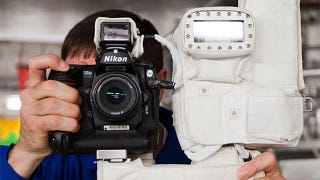 When NASA's astronauts go on a spacewalk, they often carry a space camera for those memorable moments. Think they use some fancy gear developed in a secret NASA lab? Think again.
The camera that an astronaut uses is a retail Nikon D2X with NASA-specific firmware and special lubricant for space operation. Thrown on top of the rig is a modified Nikon SB-29 sync cord that lets the astronaut attach an auto-focus illuminator for taking photos in low-light conditions.
The camera also includes a Nikon SB-800 Flash housed in a specialized case suited for space. Both the flash unit and the bracket are then enclosed in a pressurized space blanket. This high-tech blanket is needed as a normal flash does not work in the vacuum of space.
When all this gear is assembled and placed in the hands of an astronaut floating in space, you'll get some riveting pictures like the one shown here. [PopPhoto; Image from NASA Photo/Houston Chronicle, Smiley N. Pool]
---
You can keep up with Kelly Hodgkins, the author of this post, on Twitter or Facebook.