Samsung has always, for the most part, marched to the beat of its own drum when it comes to smartwatches, making wearables with cameras, LTE, and weird rotating bezels—all powered by its own OS, called Tizen. Although that first-party software allows Samsung to get creative with its wristputers, it also comes with unfortunate side effects.
First, the good news. In the design and hardware, the S2 takes significant strides toward "I would actually wear this" status. Last year's Gear S was a monstrously huge smartwatch that we described as "big, ugly, and unhip." The Gear S2 is decidedly less so.
For one, it actually looks like a watch, both in size and style, and second its Super AMOLED display is actually one of the most pixel-dense watches out there so it looks incredibly crisp. I wasn't able to take the Gear S2 outside so I can't comment on ambient light readability, but indoors it looked pretty great.
The watch comes in two styles—the Gear S2 Classic (right) and the plain old Gear S2 (left). I much prefer the watch casing on the Classic even though the leather strap is stiff and hard to work with. Luckily, it's easily removable. The normal Gear S2 also has a unique catch and release system so you can take off the band easily, and while the elastomer band is probably best for the more active of us out there, but its also limited in band choice and feels a bit more cheap than the Classic.
G/O Media may get a commission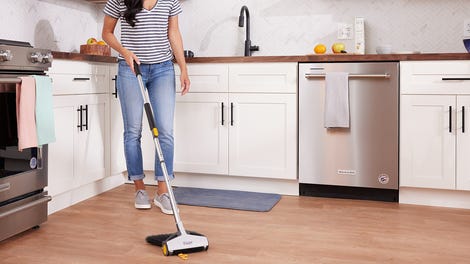 BOGO 50% Off
Flippr - BOGO 50% Off
Samsung's also release a 3G model of the Gear S2 but that comes in at a startlingly thick 13.4mm. With the non-3G models hovering around 11.4, already too thick for my tastes, the 3G option for me is not going to happen.
Digging into the watch, you're met with a familiar operating system. It's obvious Samsung's taken at least a few design cues from the Apple Watch with the overall OS design (lots of small bubbles everywhere) and a rotating bezel that works much like Apple's digital crown.
But the S2 has a lot of original ideas here too. One of the most exciting is the rotating bezel —your main form of navigation on the Gear S2 along with the "back" button and "home" button along the side. Turning left or right, it cycles through menus, apps, settings and widgets. If you turn counter-clockwise from the home screen, it goes to a series of quick glance widgets for weather, fitness, or whatever you want. A clockwise turn brings you immediately to your notifications with each app being its own separate screen. You can customize these apps and watchfaces with Samsung's Gear companion app.
The rotating bezel also has specific functions in other apps. In a maps application you can zoom in and out for more or less detail. The bezel also works well with each turn giving you a subtle resistive feedback so you can land on the menu you want. It was actually surprising how well it worked.
Another neat feature is live watchfaces developed in partnerships with companies like ESPN, CNN, or Twitter to deliver information straight to your watchface without having to open any app. The ESPN S2 app for example will keep track of your favorite teams and score and will also give out details as what inning, quarter, or period the game is in.
But the S2 isn't all sunshine and roses, it comes with a few technical caveats that make it a little disappointing. The most glaring is apps. Android Wear has way more support for their platform than Samsung does on Tizen. Where Android Wear has about 4,000+ apps, Samsung is hanging around the 1,000 mark. The company seems confident that the number will quickly swell—and honestly, 4,000 isn't a lot either—but right now there isn't much to choose from.
Samsung was also able to get the S2 to work on all Android phones running Android 4.4 or higher. That's a major plus, but the real downside is you're still going to want to have a Samsung phone if you're going to go with the S2. Apart from things just working more smoothly, the NFC chip in the S2 will be compatible with Samsung Pay this November (though not as fully featured as its smartphone equivalent). However, on a non-Samsung smartphone, you won't be able to use payments whatsoever. Samsung also says you may experience delays between messaging and email if you're on another Android platform. Not exactly a dealbreaker, but a big enough annoyance to maybe push you toward Android Wear instead.
The Gear S2 is evidence that Samsung is beginning to hone its smartwatch tastes, discovering that one of the most important things about a smartwatch is that you'll actually want to wear it and with a reported 2 to 3 day battery life, it's not the worst energy offender out there. But the S2 is also limited on most Android watches unless you're a Samsung diehard. Which if that's the case, it's definitely worth getting one on your wrist and giving it a test run, especially if you've been somewhat disappointed in what Android Wear can do.
That's if the price is right, which we won't frustratingly know until later, but Samsung promises the Gear S2 will launch in 2015.
Gear S2 companion app
Gear S2 Specs
OS: Tizen

CPU: Exynos 3250 (1.2GHz)

Display: 1.2-inch Super AMOLED

Resolution: 360x360

PPI: 302ppi

Memory: 512MB

Storage: 4GB

Battery: 250mAh (3G: 300mAh)
Thickness: 11.4mm (3G: 13.4mm)

Wireless Charging: Qi

Wifi: Yes

Sensors: Gyroscope, accelerometer, heart rate monitor, barometer, ambient light sensor

Waterproof: IP68

Price: Unknown